At Tap Cancer Out events, safety is of the utmost importance to us. We have waited 15 months from our last tournament in 2020 to get to a place where we feel we can safely host an open Brazilian Jiu-Jitsu tournament that minimizes (but certainly doesn't fully eliminate) risk. We have put together the following health and safety protocols for our 2021 tournaments to ensure the health and safety of both our competitors and our staff. In late 2020 we were able to roll out many of these protocols at our Sub-Only Showcases, which allowed us to improve and optimize our methods.
These protocols and standards are always subject to change depending on the state of the current health crisis.
GENERAL PRACTICES
UPDATE JUNE 6th:

Spectators are now allowed

– Tickets will be available for sale at the door and paid via CREDIT and DEBIT card only as we are a cashless event. Tickets will be $10 per person. 

TWO COACHES PER ACADEMY may enter for free. All additional coaches are considered spectators and must pay the $10 spectator fee. We will have a list of all participating academies (via our competitor list) and the first two coaches to arrive and add their name to the coach's list will be free. First-come, first-served.

ONE parent is free with a competing child.

Masks are strongly encouraged for all attendees except when actively competing..
Scheduling and timing may be staggered (and day extended) in order to allow for fewer people in the building at any given time

All monetary transactions will be CASHLESS – Credit card only with no signature required

Rashguards are mandatory, spats will be allowed but are not mandatory

Plastic barriers will be installed at tables for check-in, bracketing, and weigh-ins
ON / OFF MAT PROTOCOLS
Volunteers and Referees will wear masks at all times (no exceptions) — Referees will avoid contact unless necessary (ex: No shaking hands with competitors)
Stanchions will separate competitors from the scoring table
When possible, chairs will be set up to provide social distancing for competitors at their ring waiting to fight
Only active coaches/competitors near a mat — Parents may accompany their child but must be 6 feet away from other individuals and away from the mats
Defense Body Wipes and sanitizer will be made available at all rings and their use is strongly encouraged before and after matches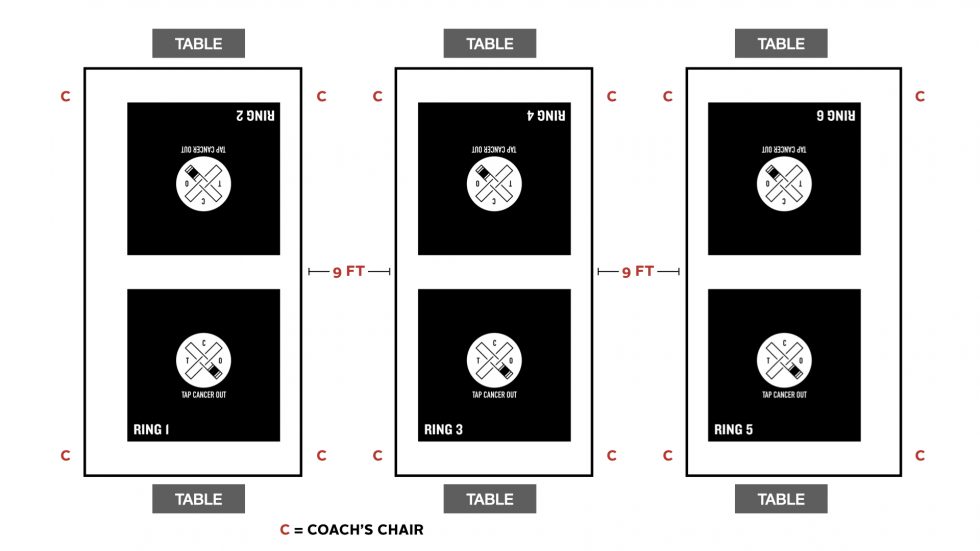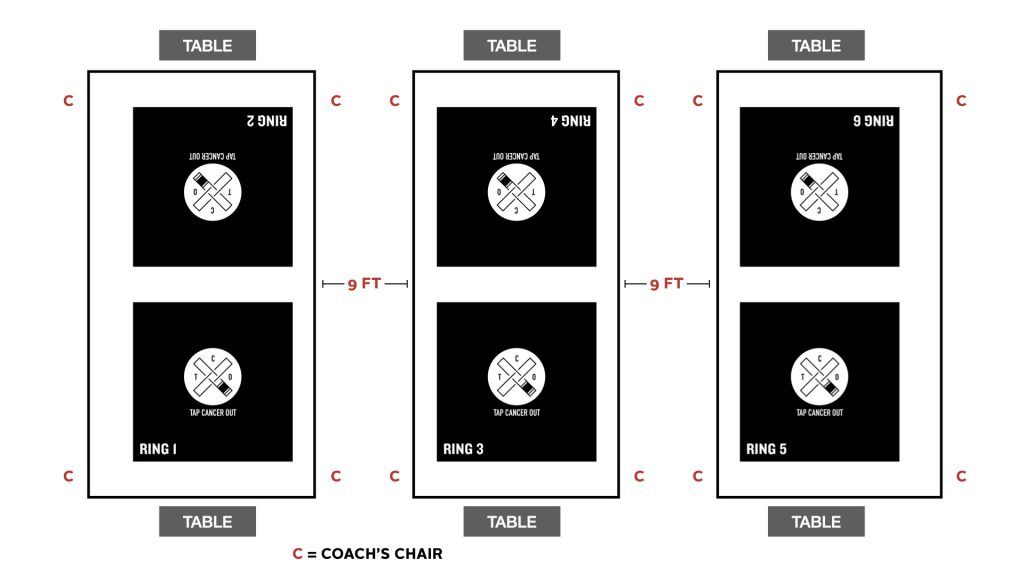 BRACKETING / WEIGH-INS
Weigh-Ins require one person at a time on the scale (which will be moved further back). All people in line to weigh in will need to be 6 feet apart.

Shoes will remain ON for scales.
SCHEDULING
We reserve the right to cap the number of round-robin matches within a given division, which could be as few as 3 matches to limit potential exposure
MEDALS / PODIUM
We WILL have a podium but safety precautions will be taken
Competitors will take their medals from the table and find their way to their appropriate place on the podium
Masks must remain ON for podium photos unless a competitor is BY THEMSELVES