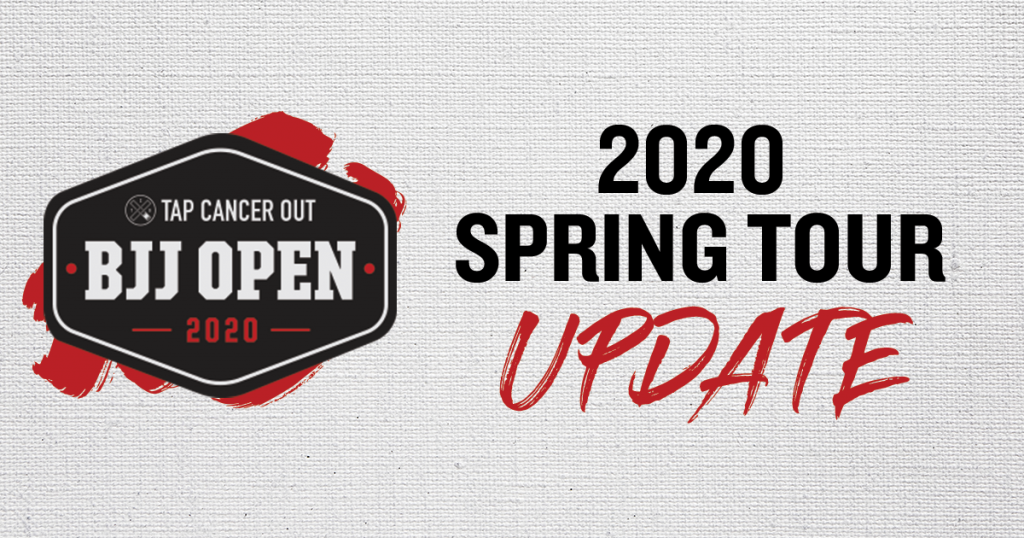 As the world continues to face ongoing healthcare threats, we wanted to be proactive in addressing our upcoming Spring Tour this May and June.
We already rescheduled our Connecticut tournament, originally slated for March 28th, to August 15th. It was of course a no-brainer considering the state of our country right now.
However, our May and June events are still staring down this storm. Even if our society were to go into isolation for the next 4-6 weeks and emerge just in time for our first event in Charlotte on May 10th, the inherent impact may have already sunk some or all of the events. There is a minimum viable number of competitors that we need to host a tournament. It's hard to say what that is, but it's somewhere around 100 competitors. Even if we were to be given the all clear to host our May and June events, the societal and financial impact of the prior months may result in us not having enough competitors to host the tournament. And if fundraising trends follow market trends, we'll be impacted in the near term on that front as well.
The only way to react to this is to act quickly, decisively, and responsibly. Our hope is that any changes we make will allow all those involved to better plan their lives over the coming weeks and months to whatever extent that means.
What Is Happening:
Below are the approach we're taking with our Spring Tour, date by date. Obviously this is all subject to change, as we can't predict what our reality will be two months from now. Hopefully things are back to "normal" but this is uncharted territory for all of us.
Charlotte (originally May 10th) has been RESCHEDULED to July 18th:
We have been in close contact with Johnson C. Smith University in the past week and were informed that their president has put a moratorium on all events through May 17th. That made this move unavoidable, though we likely would have rescheduled it anyways. We will remain at Johnson C. Smith University. View tournament website here.
Miami (originally May 16th) has been RESCHEDULED to July 11th:
We will remain at Miami Springs Community Center. View tournament website here.
Jacksonville (originally May 23rd) is actively being RESCHEDULED with a date TBD:
We are working with the Jacksonville Juniors Volleyball Academy to reschedule the tournament. We will provide more info as soon as we have a confirmed date.
Dallas, Colorado, Minneapolis, Kansas City, and Baltimore will go on as scheduled:
Our Spring Tour will officially kick off the weekend of May 30th in Dallas and conclude in Baltimore on June 27th. These dates/locations will remain unchanged and would only be cancelled as a last resort. They likely will not be rescheduled.
**We will be pausing registration until April for any rescheduled date in order to avoid any date confusion made by new registrants who haven't heard of the date rescheduling**
School owners should remove any posters with the original dates. We plan to send new posters and postcards in the coming months. We do hope you join us as your support is critical not only to Tap Cancer Out but our beneficiaries who will also undoubtedly feel the strain of this crisis.
What To Do:
Obviously these changes will affect our competitors already registered for the rescheduled events in a variety of different ways and we understand whatever approach you'd like to take. We have notified all Atlanta registrants already and will deal with them on an individual basis.
If you are registered for Charlotte or Miami, please read the following protocols before reaching out to us:
If you plan on joining us on the rescheduled date then you don't have to do anything. Your registration will remain active. If you need to update it in any way (weight/belt) by August, just let us know.
Anyone who would like to withdraw, now or later, may do so by emailing us at registration@tapcancerout.org. If you paid a registration fee, that will be refunded in full. If you registered more than 60 days ago we'll need to make alternate arrangements (Venmo, PayPal, mailed check) to refund you as our payment processor won't allow for us to process refunds directly back to cards after the 60-day period. Our policy will continue allowing withdrawals and full refunds until the Wednesday before the tournament. Please be patient with confirmation from our side. We will work as diligently as possible.
If you are unsure, please leave your registration active. As the date approaches or you become 100% sure you can't make it, then reach out to us. You have all the way until the Wednesday before the tournament to withdraw and receive a full refund for a paid entry fee. Unregistering now and re-registering later may cause undue confusion and technical issues with duplicate names.
If you are a FUNDRAISING COMPETITOR who can't make a rescheduled tournament and needs to withdraw:
Any perks you earn will of course be honored. Please reach out to us and we'll coordinate getting those shipped to you. Please only do this if you do not plan to attend our rescheduled event and thus can't pick them up.

If you earned free entry to the tournament, that may be applied to any tournament in the future and that will never expire.

If you plan to re-register for a DIFFERENT Tap Cancer Out tournament in 2020 and would like to move your fundraising efforts to that tournament, please register for that tournament, let us know, and we'll move your donations.

As per our policy

, donations are made in good faith to support Tap Cancer Out and our beneficiary organizations and are independent of the outcome of any individual's performance on the mat and will not be refunded due to the schedule change. We will continue to honor all fundraising perks earned regardless of whether or not a competitor will be joining us.

Donations CAN be moved from one fundraiser to another, but that fundraiser will forfeit any perks earned (as the other fundraiser will earn them due to the additional donations).
​We know many of you have been doing a great job fundraising and training to prepare for this tournament. None of that is lost on us, and none of that will be in vein. The funds you've raised thus far will make a tremendous difference and with a few more more months we could make an even greater impact. Maybe that's some silver lining in all of this.
Please bear with us as we work with you through this unique time. We appreciate all your support greatly and promise to continue our mission keeping the interests of our community of grapplers first and foremost in our hearts and minds.