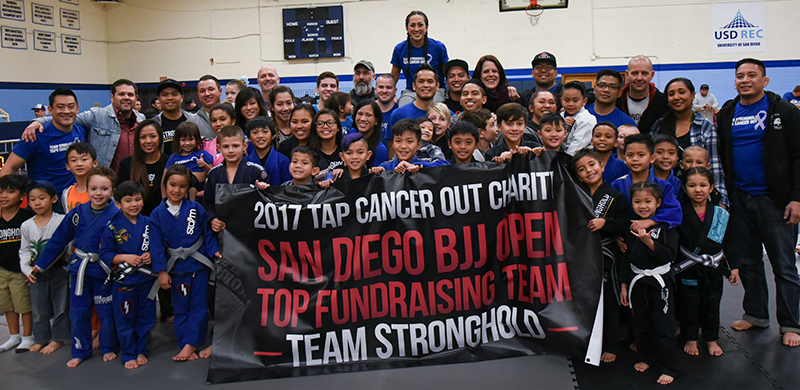 113 Fundraisers – 852 Donors – $66,000+ Raised!!!!
On January 21st, 2017, we returned to the University of San Diego for our third San Diego BJJ Open in support of the Pancreatic Cancer Action Network. The southern-California BJJ community literally packed the gym as we welcomed nearly 450 competitors and hundreds more spectators and supporters.
Michael Phelps from Del Mar Jiu Jitsu earned the top fundraising award with exactly $4,000 raised. And for the third year running, Team Stronghold took home the Top Fundraising Team award with $9,454 raised. Mikey Talavera from Gracie South Bay took home our Michael Corb Top Children's Fundraising award with $1,347 raised.
We live-streamed many of the adult matches including some fierce black belt matches. Head to our Facebook page to watch them, and take a peek at some special interviews we did with Clark Gracie (Clark Gracie BJJ) and Josh Hinger (Atos JJ).
Special thanks to our sponsors for helping us put on such a great event, including Inverted Gear, AK Kimonos, GrapplingX and BJJ Tees.
>> Click here for the photo album
Looking forward to seeing everyone at our 6th annual Connecticut BJJ Open on April 29th!