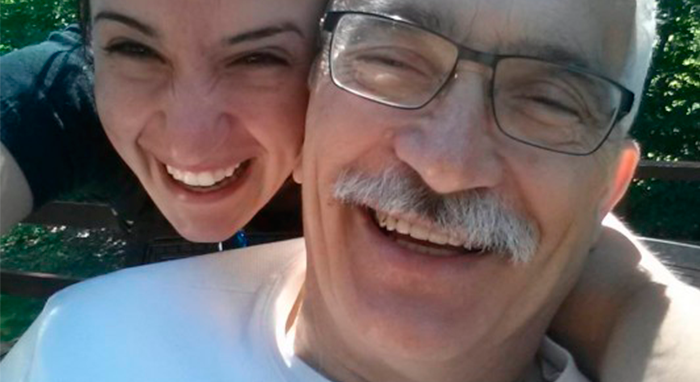 Jessical Bal is a white belt who trains at Macarra BJJ/Gracie Sports in Norwalk, CT. She first popped onto my radar when I was looking at some of our fundraising reports and noticed an anomaly—a competitor who was fundraising at two consecutive tournaments (CT and PA). Less than a year later, back at CT, she was fundraising again. We wanted to learn more about what drove her to support Tap Cancer Out and the Pancreatic Cancer Action Network. Also, please take a few minutes to watch a (different) interview with Jessica about her story at the bottom of this page. You will be moved, I guarantee. 
How did you first get into Brazilian Jiu-Jitsu?
I was in my early 20s when I was first introduced to MMA by some good friends I ended up watching UFC with frequently. One of the guys had started a Brazilian Jiu Jitsu club and it seemed to be great for ground work in terms of self defense. It was a great time for a few months, but the commute was ultimately too much.
I took a break and continued to work full time in IT, building up my career. But without an outlet like BJJ, I really felt detached.
What brought you back?
In January of 2016 I lost the most important person in my life—my dad.
Even though he battled stage four pancreatic cancer, I wasn't ready to process his passing. So I started cutting off those close to me and isolating myself. I would talk about going back to BJJ, but could never pull the trigger. Then, my coworker mentioned a gym, Gracie Sports, not five minutes from my office. I called and set up a visit for the next day.
As soon as I walked in, it felt like it was meant to be. I signed up immediately. Master Marcio Stambowsky and Carla Gracie are incredible people, as are the trainers including Pavel, Cuba, George, and Danny Morales (kickboxing). I cannot stress how important it is to have a good crew of people to train with that become additional family.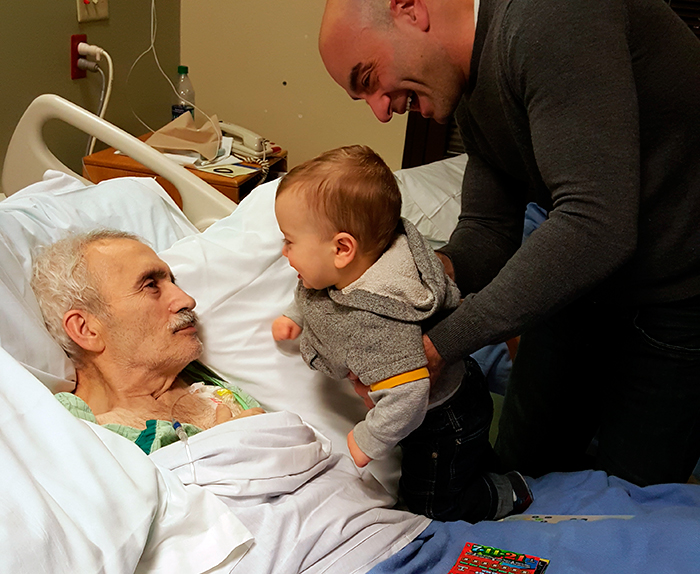 How did Tap Cancer Out come into your life?
July 18th, 2016, was the first birthday I had spent without my father. That same day, posters for Tap Cancer Out's Danvers, MA tournament were dropped off at Gracie Sports. I actually didn't go into the gym that day. It would have been too difficult. But I went in the next day and not only saw the posters, but saw the beneficiary—the Pancreatic Cancer Action Network—and nearly passed out.
I signed up as a fundraiser and competitor immediately and when the day before the tournament came around, I drove to Massachusetts by myself and stayed with a friend in Boston. He joined me the next day and when we arrived, we said (and felt) the same thing—the energy was incredible. My standout moment was when a gentleman who had stage 4 pancreatic cancer for 4+ years spoke about his battle.
What's it like to be a part of the Brazilian Jiu-Jitsu and Tap Cancer Out community?
The BJJ community is so unique in the type of unity there is amongst the people participating. There is an incredible level of trust and patience that goes into rolling with someone – especially with me being a white belt. People at my gym are willing to help or teach me something new all the time to help me improve on the mat.
In the same way, the Tap Cancer Out community is important to me too, especially after that first Tap Cancer Out BJJ Open I participated in. I enjoyed it so much I ended up signing up and fundraising for their next tournament a few months later in Philadelphia. Taking my outlet/passion and using it to raise money to help others might be one of the most euphoric feelings one can have after losing a loved one.
How has Tap Cancer Out helped you deal with the loss?
As someone who watched firsthand what pancreatic cancer could do to a person, I'm motivated to do anything to help those suffering from it. My dad was by far the greatest person I have ever known, through and though. He would help anyone, especially without being asked and never once expecting anything in return. I admire that level of selflessness. Despite all the struggles he had in his life, he still put his pain on the back-burner to help others. He would use his own pain to motivate himself to be there for anyone, including strangers.
Competing in and fundraising for Tap Cancer Out has not only allowed me to honor his memory but start healing as well. I know that there's a long road ahead to find a cure, but the research that Tap Cancer Out has helped fund on behalf of the Pancreatic Cancer Action Network is incredible. Tap Cancer Out is helping me give back and honor my dad's memory in a way I know he would be proud of – helping others. Many thanks to the organizers and founder Jon Thomas. It started with a selfless thought and manifested into a major event that brings so many together for an amazing cause.
Got anyone to thank?
I would like to give a major shout out to a few major donors – Ventus LLC and employees, Sean Holloway, Jim Norton, Sean Barry, Ang, Auntie Mary, Ben Frank, and everyone who rallied to help. Thanks for helping us spread awareness and fight to diminish pancreatic cancer.
Editor's Note:
Jessica is an amazing steward of Tap Cancer Out and our cause. She has fundraised for us three times in less than a year, including two consecutive tournaments. That's unheard of. We are so thankful for her and proud of her. And we appreciate her taking the time to answer our questions.