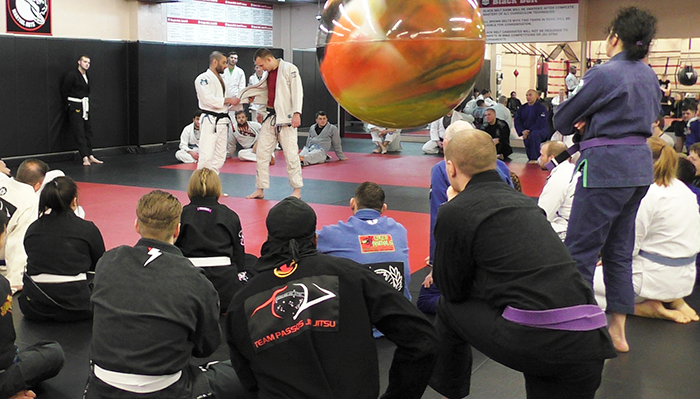 On February 11th at Cherico's Martial Arts, the Pittsburgh Brazilian Jiu-Jitsu community came together in force for a day full of rolling, drilling, learning, eating, and fun, all in support of Tap Cancer Out!
Nine participants actively fundraised, together raising a combined $6,113. Sharee O'Neil was our top fundraiser with $1,230 raised and Pride Lands BJJ was our top fundraising team with $2,904 raised! For her victory Sharee not only took home all the perks for surpassing the $600 milestone (free entry, exclusive Under Armour fundraiser t-shirt, and rashguard/hoodie) but also snagged a free Tap Cancer Out x Inverted Gear Gi.
Dozens of attendees represented many of the Pittsburgh area's BJJ schools. A thank you goes out to the black and brown belts who hosted mini-seminars throughout the day, and a special thanks to our volunteer host Michael Graham (who also fundraised $769 on his own) for his hard work putting on this event!
We're really looking forward to seeing this become a yearly event in Pittsburgh.
Click here to check out the event's fundraising page
If you're interested in hosting your own Grapplethon to support Tap Cancer Out, head to our Grapplethon homepage to learn more. 
Check out the photos from the event below:
[Best_Wordpress_Gallery id="2″ gal_title="Pittsburgh Grapplethon"]