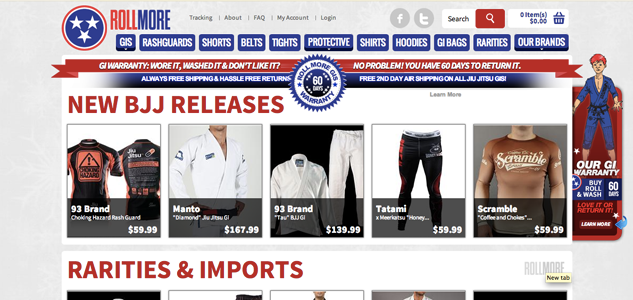 RollMore.com, the newest site from the folks at BJJHQ, has everyone in the jiu-jitsu community raving. The site, which launched in early December, features a vast selection of BJJ gear from great brands (and Tap Cancer Out supporters) like Inverted Gear, Manto and Scramble and a 60-day Gi warranty that simply can't be beaten by any other site.
But aside from the site's great deals, brands and warranty, it is run by some great people. That's because RollMore.com is run by the folks who brought you BJJHQ, which was one of the first brands that supported our nonprofit. Aaron and his team knew the launch of RollMore.com would be huge, and he wanted to make sure Tap Cancer Out would benefit from it!
For the first week of it's launch, 10% of the proceeds from RollMore.com were given to Tap Cancer Out, which resulted in a donation of $1,012!! We couldn't be more thankful to receive a donation like this, especially during the holidays.
So if you haven't already, head over to RollMore.com and pick up some BJJ gear!