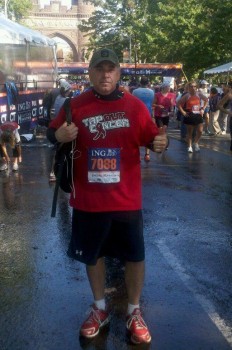 2011 was the year of our nonprofit's birth, and one that had us experiencing many ups and downs (luckily more ups than downs). Since my wife and I have never run a nonprofit before, we've learned an immense amount about the process, including how tedious (and expensive) it can be at times. However, we've had a great support system, particularly the support of our thousands of fans on Facebook, and it's motivated us even further to help grow this organization to help as many people as possible.
PARTNERSHIPS
We wouldn't have been able to spread our cause if it weren't for numerous business owners who extended a helping hand, including some great brands within the BJJ community, and they deserve a big public THANK YOU! 
Carlos at Handprint Store has printed all of our shirts and patches at a very low cost to us, including our limited edition tees that will be sold on BJJHQ.com. The folks at BJJHQ are great and will be selling the shirts on their site for free, with all profits coming back to us.
A number of websites have added a banner ad for us, for free, including BJJ Gear Junkie, Lapel Choke, MMA Breakdown, Also, BJJ Weekly and TheFightingTruth.com published pieces on us.
In the MMA world, Cage Titans donated booth space to us at their show in Plymouth, MA. Pro fighter Andrew Calandrelli sported the Tap Cancer Out logo on his banner and shirts for his fight (and win) at Bellator. PJ Ste Marie wore our original rashguard for his walkout in his pro MMA debut (photo below). Trey Whitaker deserves a shout out as well who was not only a generous donor, but sent us numerous pictures of him representing Tap Cancer Out, including the one at the beginning of the article of him at the finish line of the Hartford (CT) Half Marathon.
Of course, we can't forget our friends at Shoyoroll, who auctioned off a gi on eBay for over $500 and donated the profits to Tap Cancer Out.
We spent our weeks leading up to Thanksgiving raising funds for Richard Grispi, father of pro MMA fighter Josh Grispi, who is battling brain cancer. Through the generosity of our community, we were able to raise over $600 for the cause and delivered the check to the family at their fundraiser.
PHOTOS
One of the best parts of 2011 was seeing the Tap Cancer Out (formerly Tap Out Cancer) brand spread not only across the US but across the world! We sent gear to twenty different US states, Canada, the UK, and even Norway! But what made me more excited than seeing a donation or sale (which I value greatly) was when I received a picture of our supporters wearing our gear. That's when I really started to believe that this effort was going to take off. Here are some of the pics we got this year.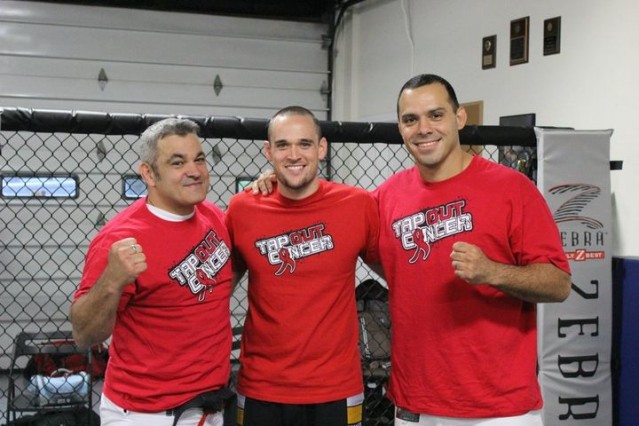 2012
We're really looking forward to 2012. We plan to host our first Tap Cancer Out BJJ tournament in the coming months. We're also going to focus on our school sponsorship program, which will allow us to fund our operating costs, allowing all donations and profits from merchandise sales to go directly to our beneficiary organizations. If you are a school owner or a student who'd like to get your school involved, please contact us.
We'd also like to get the Tap Cancer Out brand in the national spotlight. Which pro-MMA fighter will be the first to sport a Tap Cancer Out patch on his (or her) shorts? Or wear one of our shirts during the post fight decision? We don't think it's out of the question.
Ultimately, we foresee 2012 furthering the fight against cancer and showing the world what the BJJ community is all about. I can't thank our community of grapplers, family and friends enough for the support this year. It's because of you that we're in such a great position for success. Osss!!