Here at Tap Cancer Out, we never want to gatekeep any information, which is why we are always sharing ways to knock your fundraising out of the park. That is certainly no different with your Global Grappling Day Event.
We have had so many schools come together to celebrate Global Grappling Day, so we decided to pull together some great examples from last year. Hopefully, it helps to inspire you to make your event as big, or as little, as you'd like.
Before we dive in, if you are not yet registered for Global Grappling Day, we hope that you'll join us! It's FREE to sign up and you'll earn all kinds of great perks for fundraising. You can register here! Also, if you are interested in being a Global Grappling Day Event Host- fill out this form so we can help you create one of these amazing events on December 16, 2023.
NITRO BJJ (BREWSTER, NY) – $9,191 RAISED VIA OPEN MAT + PARTY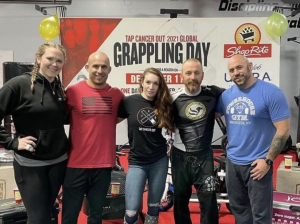 Our 2021 Top Fundraising Team, Nitro BJJ, went above and beyond in honor of their friend and teammate who lost her battle with cancer. They had two open mat time slots for the 1-hour rolls. Participants had to sign up with a partner, fundraise, as well as make a $25 minimum donation at the door. They had food, a DJ, raffle, AND auction items donated to them by their teammates and friends. This gave their non-grappling family and friends an opportunity to get involved. They had incredible support from the gym owners where they are located, along with other teammates who had connections to businesses in the community.
HONG KONG STRONG (HONG KONG, CHINA) – $4,886 RAISED VIA SEMINAR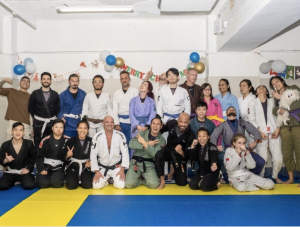 One of our top international teams hails all the way from China! In addition to their own coach, they invited two more black belts to host a seminar. All in, four different academies came together to raise awareness, fundraise and roll. They had friends in the fitness industry who sponsored prizes and a photographer donated her time as well. The BJJ scene in Hong Kong is pretty competitive, so it was very exciting that all these teams – Tempo Jiu Jitsu, Hybrid MMA, Shanghai BJJ and Kowloon BJJ – came together for a great cause.
QUEEN CITY JIU JITSU (FORT MILL, SC) – $10,636 RAISED VIA OPEN MAT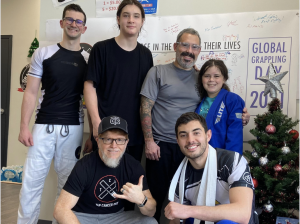 For the past two years, Queen City Jiu Jitsu has held an open mat throughout the day with time slots to signup and roll for an hour in pairs or in teams. Both adults and kids participated. They also continued the tradition of having a banner made for the occasion and encouraged students, participants, and parents, to sign – along with any words of encouragement. They also added a 50/50 raffle and included some food and drinks for participants.
THE FARM BJJ (GREENLY, CO) – $7,663 RAISED VIA OPEN MAT + PARTY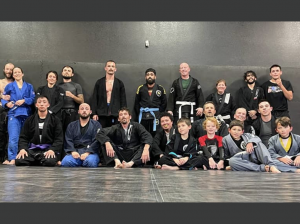 The Farm BJJ's event featured one hour of non-stop rolls with 5-minute rounds then 10 seconds to quickly find a new partner and keep rolling. They ended the day with a pizza party, raffled off donated prizes, and had a silent auction. They charged a suggested donation of $25 to roll and participate but also had teammates actively fundraise.

CHECKMAT CHARLOTTE (CHARLOTTE, NC) – $1,113 RAISED VIA OPEN MAT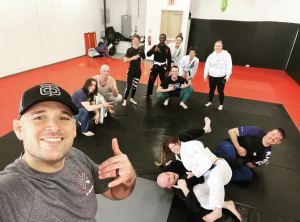 Each year Checkmat Charlotte rallied its coach and teammates to hold an amazing open mat. They all grabbed a partner and rolled for an hour straight — some even rolling for more!  To make it more fun, they added food, drinks, and amazing music. We've been told that quite a few of them have been touched by cancer in one way or another so they want to do their part by raising money and doing what they love.
Don't forget to register for this year's Global Grappling Day! See you on December 16!