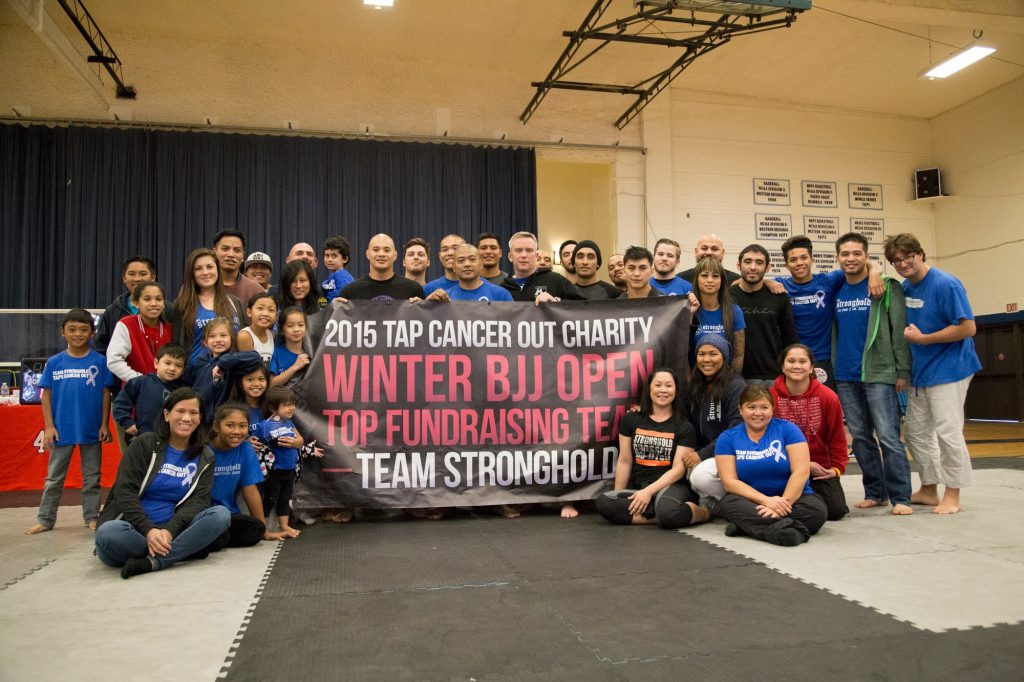 72 Fundraisers.
362 Donors.
$16,000+ raised for St. Baldrick's!
On January 17th at the University of San Diego, we held our 6th Tap Cancer Out BJJ Open, including our first on the west coast! It was a day full of submissions, stories, and more importantly, smiles.
We kicked off the morning awarding Samuel Martinez from Moore Jiu-Jitsu with our Top Fundraiser award and The Stronghold, who brought dozens of competitors and fans, with our Top Fundraising Team award having raised over $5,000. We also had a special visit from Kathleen Ruddy, the CEO of St. Baldrick's Foundation, who eloquently reflected on the Tap Cancer Out/St. Baldrick's relationship which has already resulted in a $100,000 donation from Tap Cancer Out in 2014. We were also quite proud to show her how special the BJJ community is and how exciting a BJJ tournament could be!
One special element of the day was the opportunity to raise money for the family of Jeremey Montes Jr. Thanks to a generous donation of custom-designed shirts by DeuS Fight Co. we raised nearly $500 for the Montes family and will support DeuS Fight Co in their efforts to sell more shirts.
Click here to read St. Baldrick's take on the event!!
Heading out to San Diego was very special for us, not only because we were able to share our cause with the BJJ athletes on the west coast, but because the idea for Tap Cancer Out was literally born in San Diego in 2010. After four years and more than $200,000 raised, it was a storybook chapter (not ending) to host a San Diego tournament.
A very special thanks to our volunteers who make every event possible, particularly those who flew across the country, and to our sponsors—Inverted Gear, GrapplingX, DeuS Fight Co, MassPrint, BJJProblems.net, Open Mat Radio, Verbal Tap Podcast, and the University of San Diego for being such a gracious host.
Head over to our Facebook page to check out the photos!
Top Fundraiser:
Samuel Martinez (Moore Jiu-Jitsu)
Top Fundraising Team:
The Stronghold (San Diego, CA)
Team Awards
The Stronghold – 78 points
Checkmat – 52 points
Victory MMA – 45 points