We have had some TREMENDOUS fundraisers over the years. Just check out our Fundraiser Hall of Fame and you can see the incredible impact they've created.
So how do they do it? What's the secret sauce?
There are a lot of factors that go into a successful fundraising campaign for one of our charity events. No two are alike, and every year…nay…every event I see fundraisers coming up with new and unique ways/ideas to motivate their friends and family to give.
But one of the primary factors of a successful fundraising campaign is a customized fundraising page that tells the personal story of how cancer has touched the fundraiser's life. We talk about the importance of storytelling in our article about fundraising tips, tricks, and secrets, and on the individual fundraising page is where it's told best.
Though there are many we could have featured in this article, here are four of our favorite fundraising pages along with three reasons why we liked each of them.
Make sure to click on the screen shot to go directly to the fundraising page and scroll through to see what they did.
1. Katie Spoo

– $5,404 Raised

Katie Spoo resides in Texas but hails from the windy city of Chicago! In 2020 she not only raised more than $5,400 on our behalf, but also fought her own battle with cancer. Katie competed in our Massachusetts Sub-Only Showcase just weeks post-chemo fighting not once but TWICE!! She also rolled with us on 2020 Global Grappling Day. Katie is our hero!!
What We Loved:
Katie shared her personal story of her battle with cancer
She continually posted updates on both her personal progress and fundraising progress
Katie thanked every single donor in the Activity Feed
2. Adrian Phruksukarn

– $11,518 Raised
Adrian was our 2019 Top Individual Fundraiser and narrowly missed going back-to-back in 2020. After raising more than $9,000 in those two years, he chipped in for a second time in 2020 in support of Global Grappling Day where he raised another $2,300. In his most recent fundraising page he made a simple update highlighting those he has lost to cancer.
What We Love:
Adrian added photos of the loved ones he lost to cancer
Focused on multiple individuals
He synced his fundraising page to Facebook which helped him garner more donations
3. Justin Wang

– $3,422 Raised
Justin caught our eye not just because of his quick ascension into our Connecticut leaderboard, but because of how personal his story was. He shared the story of his mother's battle with cancer, down to how she'd blow kisses when she became too weak to talk. We're honored that Justin chose to honor his mother this way and it's no surprise he was able to garner so much support.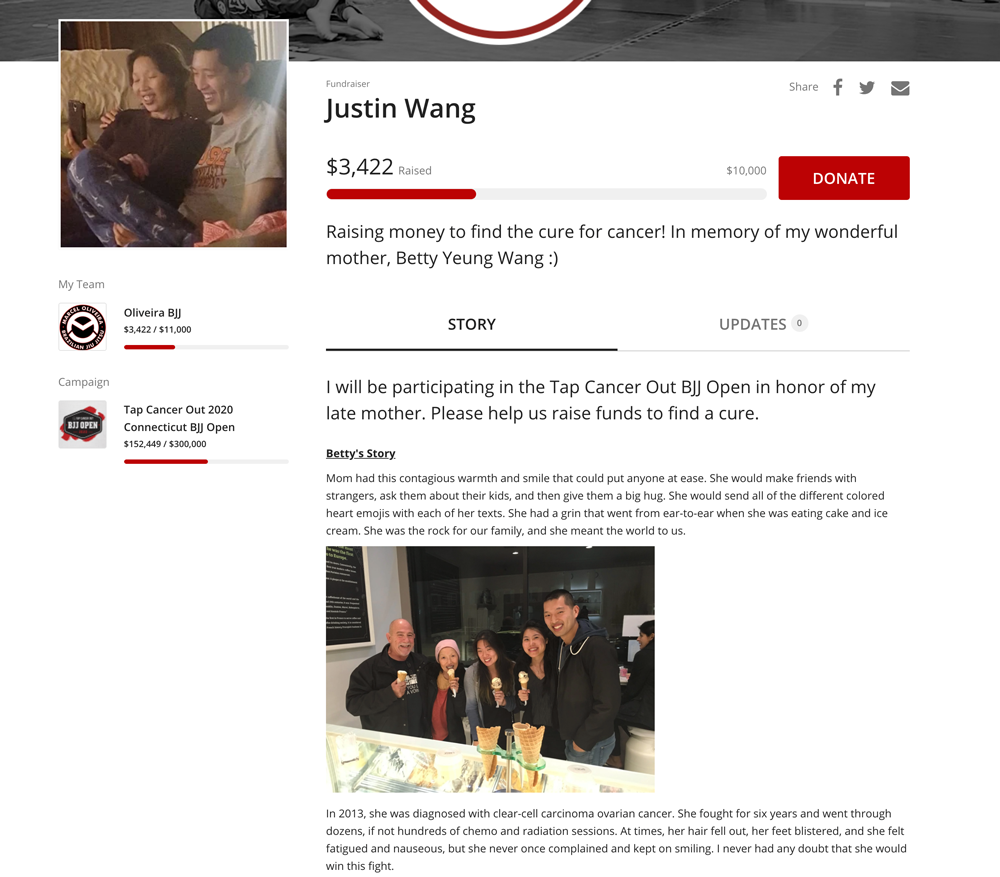 What We Love:
Justin used a descriptive title making it clear why he was fighting / fundraising
He leads with "Betty's Story" including photos and personal stories
Awarded artistic "Thank You" gifts to his donors starting at $50
4. John Tembeck

– $1,362 Raised
We've had some amazing child fundraisers, but we wanted to showcase John's page because of the way he (and his parents) customized the page to reflect his spirit. It not only tells the story of John's father's battle with cancer, but has a personal quote from John about why he's fundraising. There were also periodic updates penned by John himself as the fundraiser progressed!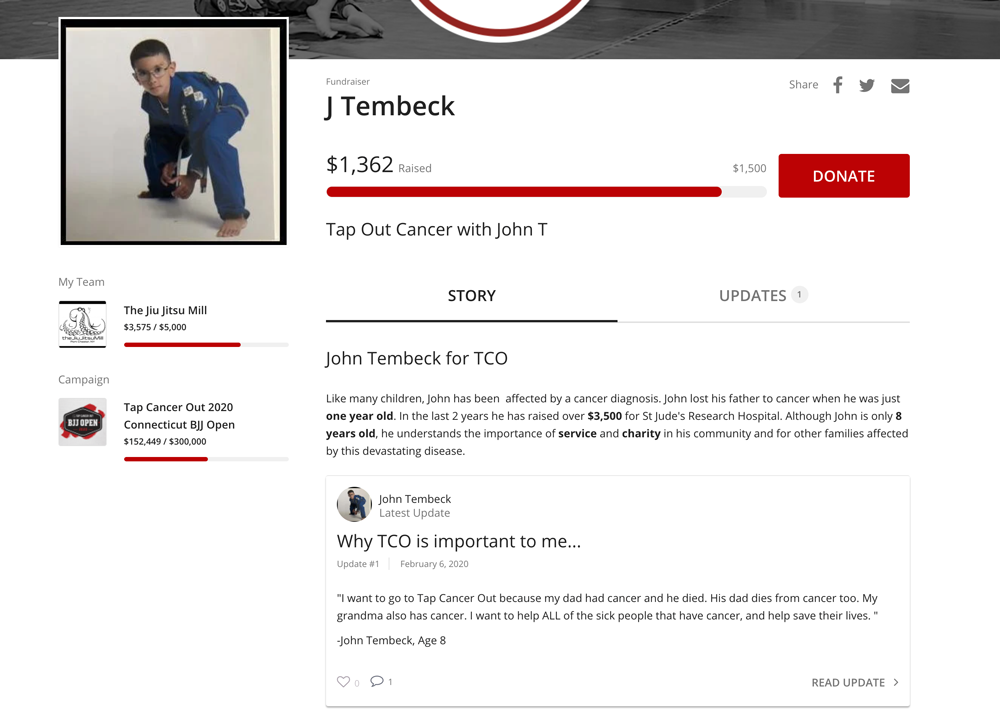 What We Love:
His story was customized with a personal quote from John (perfect for children's fundraising pages)
"Why TCO is Important to Me" section (using Updates) from John himself
Started with $1,000 goal, then moved up to $1,500.
We're looking forward to meeting new fundraisers and reading their stories in the years to come!