If you are not yet registered for Global Grappling Day, we hope that you'll join us! It's FREE to sign up and you'll earn all kinds of great perks for fundraising. You can register here! Also, if you are interested in being a Global Grappling Day Event Host- fill out this form so we can help you create an amazing event on December 16, 2023.
For those of you who are hosting an event, THANK YOU! We are thrilled that you have raised your hand and want to become a Global Grappling Day host. This small step has a huge impact and we are so grateful for your support!
Tap Cancer Out wants to ensure that every locally hosted event is a success so we are here every step of the way to assist. Today, we'll talk about how to best promote your event so that your students, training partners, friends, and family can take part. This article will also include links to marketing materials that you can use on your own, as you see fit!
WORD OF MOUTH
The fastest and easiest way to make people aware of your event is to simply tell them! Explain to your students and teammates that you are going to be hosting an event on December 16th and there will be more details to come. Talk to your instructor to get the green light to host it at your school. Just start the conversation!
PRINTED POSTERS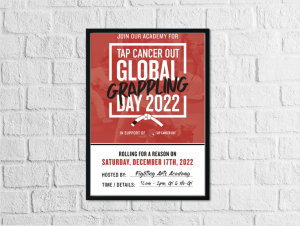 In today's digital age, it may sound silly to suggest printing out a poster and hanging it up at your school, but this is one of the most effective ways to make people aware of your event. Trust us, we send thousands of posters to schools all across the US for our tournaments and it works! We've created a Global Grappling Day poster that you can be easily customized with your event information. There are two sizes available (8.5 x 11 and 11 x 17) for you to print on your own.
Once you have your physical poster (we suggest making a few copies), hang it up at your academy, invite other academies to join, and hand them out to your teammates and friends.
CLICK TO DOWNLOAD 8.5 x 11 POSTER PDF
CLICK TO DOWNLOAD 11 x 17 POSTER PDF
SOCIAL MEDIA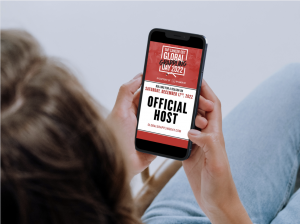 Of course, we have to include a social media strategy in our promotional plan to make it a success. Again, we've done lots of the heavy lifting for you and created an entire Social Media Toolkit. The Toolkit includes a variety of social media posts that are meant to announce your participation as a host, encourage teammates to register, countdown the days until the event, and more. You can use them on Facebook and/or Instagram in both your feed and a Story format (we've created both for you)!
CLICK HERE TO DOWNLOAD THE SOCIAL MEDIA KIT
When posting on social, here are a few things to keep in mind:
Be sure to include any event specifics such as location and time in your caption
Include your team's fundraising page URL (which you'll get once you register your team).
You can also include your personal fundraising page to help earn those perks!
Tag @tapcancerout so that we can help reshare your content!
Use #globalgrapplingday to help create buzz
Tag teammates, friends and family in the post to get their attention!
Post regularly – even though the event is months away, you don't want to wait until the last minute to get people signed up and fundraising.
FACEBOOK EVENT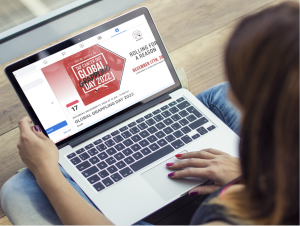 While this technically falls under social media, it's important to create a Facebook Event for your big day. It only takes a few moments to set up and it can be sent to your entire audience (super beneficial if you run your school and can reach all of your followers at once!).
Just follow the prompts to create a Facebook Event and include all your specific details. Be sure to include details about fundraising and links to sign-up (www.globalgrapplingday.com). We've created a Facebook Event Cover image to help make your event pretty!