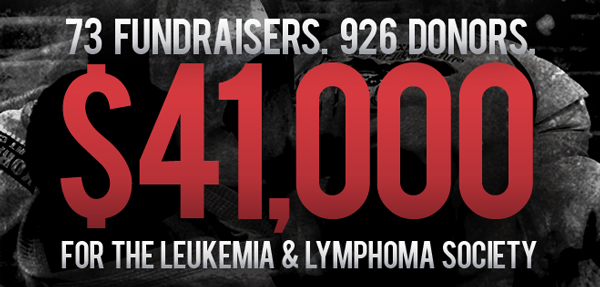 The numbers have finally been tallied for the Tap Cancer Out Spring BJJ Open, which took place in Stratford, CT, on April 13th, 2013, and to no one's surprise, the tournament's fundraisers broke all sorts of records.
The tournament attracted over 200 competitors, both male and female, from all over the New England and Tri-State area. 73 of those competitors also fundraised on behalf of Tap Cancer Out to benefit the Leukemia & Lymphoma Society, generating 926 donations and ultimately fundraising over $37,500. After including registration fees, door donations and merchandise sales, the tournament was able to raise over $41,000, nearly doubling last year's total.
Many competitors teamed up and fundraised as a school, made possible by the cool technology on our StayClassy.org fundraising platform. Four schools raised over $1,000, but the top team was Jungle Gym Martial Arts out of New Rochelle, NY. Jungle Gym raised an astounding $7,627. Our top fundraiser, with $3,460 raised, was Jeff Morris, also from Jungle Gym. They did a great job!
The day wouldn't have been possible without the generous support of our sponsors. Our primary sponsor, Inverted Gear, provided motivation for our top fundraisers, awarding each of them with a free Gi! Dollamur Mats provided brand new Flexi-Connect Mats, perfect for the tournament setup, at a discounted price. Fight Soap set up a merchandise table and gave ALL of the day's sales to Tap Cancer Out, as well as providing the competitors with free hand sanitizer. The Handprint Store and LapelChoke.com also contributed greatly.
Thanks again to all the competitors, sponsors, and especially the volunteers who donated their entire day to our cause.
We hope you join us in Danvers, MA, on June 22nd for our Summer BJJ Open!
Here are a few great photos from the event!!