2017 was an amazing inaugural year for our Grapplethon program where we saw seven Grapplethons hosted across North America in Pittsburgh, New Jersey, Upstate New York, Virginia, Las Vegas, Texas, and Vancouver (Canada). Combined, all seven Grapplethons raised an impressive $28,000.
We've written wrap-up posts about a number of those, so we wanted to keep you all updated on some of the amazing Grapplethons that have taken place over the last few months.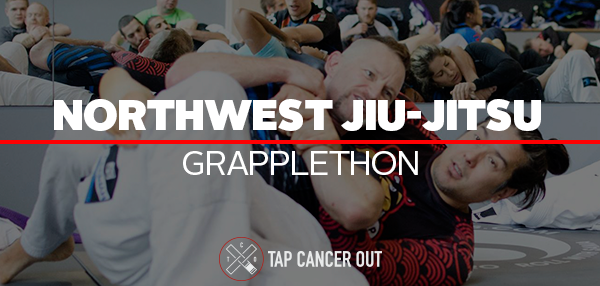 Northwest Jiu-Jitsu Grapplethon – Maple Ridge, BC – November 4th, 2017
I was thrilled when Perry Bateson emailed me expressing his interest in hosting a Grapplethon, not just because of his enthusiasm but also because it would be our first outside the US. The Vancouver (Canada) Grapplethon was held at Northwest Jiu-Jitsu on November 4th, welcoming a massive turnout of grapplers from the Vancouver and Washington area for the 12-hour event. Jada Brazil was our top fundraiser with $1,186 raised, while Scott Drayson-Busby was a close second with $1,633 raised. Overall the event was our most impactful ever, raising a grand total of $10,181!
Click here to check out the event's fundraising page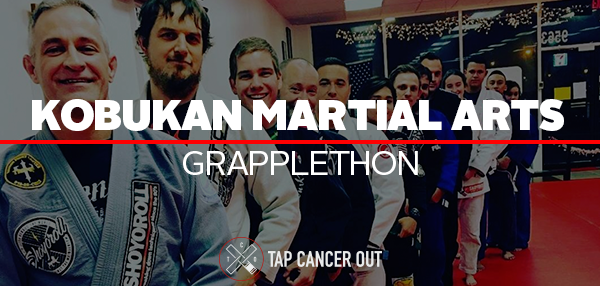 Kobukan Martial Arts Grapplethon – Norfolk, VA – November 11th, 2017
Our first Grapplethon in Virginia took place in mid-November at Kobukan Martial Arts in Norfolk, VA. Our top fundraiser was young Kyra Foreman who raised $615 and the event raised $2,253 in total! Special thanks to our volunteer hosts Josh Foreman and Stephanie Chivers, along with black belts Ron Manes, Greg Walker, and Andy Barker who donated their time to offer mini-seminars.
Click here to check out the event's fundraising page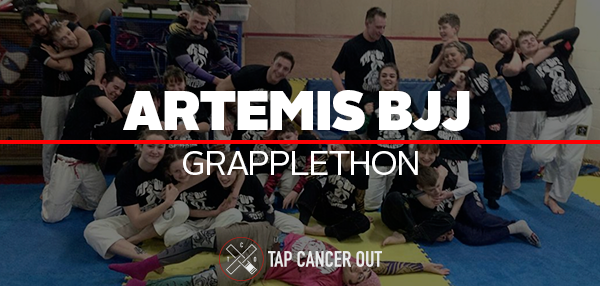 Artemis BJJ Grapplethon – London, England – February 4th, 2018
The first few months of the year saw us host our first (and second) Grapplethons across the pond in the United Kingdom! For the first, we were blessed to have Can Sonmez (of Grapplethon.org fame) choose Tap Cancer Out as the beneficiary of his yearly event, which was held on February 4th (World Cancer Day) at Artemis BJJ. While most Grapplethons last about 4-6 hours, this was a 24-hour event!! A truly impressive feat.
16 participants actively fundraised, together raising a combined $7,400. Seymour Yang (aka Meerkatsu) wasn't able to attend this event in particular but not only did he design incredible custom t-shirts for the event, but also set up his own Grapplethon fundraising page and raised $2,677 through sales of his amazing artwork.
Can took a bunch of videos throughout the 24 hours, including clips of folks sleeping on the mats! You can check out all of the content on the @Grapplethon Instagram account.
Special thanks to Turtle Girl BJJ for putting together this awesome highlight video!!
Click here to check out the event's fundraising page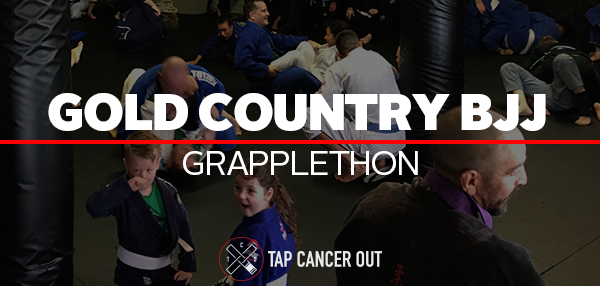 Gold Country Jiu Jitsu Grapplethon – Auburn, CA – April 7th, 2018
2018 also brought us our first Grapplethon in California! We have hosted four tournaments in San Diego so it was nice to see our Grapplethon program reach the west coast as well. The California Grapplethon was hosted at Gold Country Jiu Jitsu in Auburn, CA, and raised $3,500 in support of Tap Cancer Out. Our generous volunteer host, Nick Millanes, was also our top fundraiser with $442 raised!
Click here to check out the event's fundraising page
What's a Grapplethon?
If you're not entirely sure what a Grapplethon is, then no worries. Watch our explainer video below!