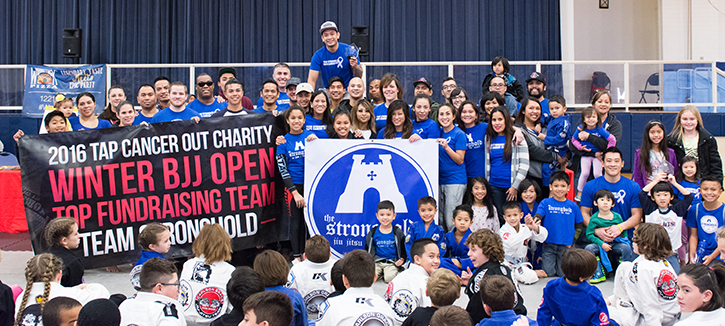 80 Fundraisers—727 Donors—$46,000 + Raised!
After a successful debut in 2015, Tap Cancer Out returned to sunny San Diego for the second annual Winter BJJ Open held at the University of San Diego on Saturday, January 16, 2016.
Our supporters did not hold back as our fundraisers shattered last year's efforts by more than tripling the amount in 2015. This year we also have a new record holder, Robert Wong of The Stronghold, who set the new individual record with $7,695 raised. Also, for the second year in a row, The Stronghold took home the top prize for team fundraising as well. Thanks to our hard working fundraisers, the Winter BJJ Open was the most successful sophomore effort ever in Tap Cancer Out history.
In addition to seeing several fundraising records broken, San Diego also set a new record in attendance for the number of competitors. With 120+ grapplers in our youth divisions and over 200 competitors in our adult divisions that also included the most black-belt competitors ever, San Diego made this year's Tap Cancer Out the most attended BJJ Open ever. Of course, the main reason for having records is for them to be broken, so it's only natural that we can't wait for 2017 to set new highs when we return next year.
Later that afternoon, and before our adult competitors took to the mats, Dr. Sun Choo, a pediatric oncologist and recipient of one of our Tap Cancer Out/St. Baldrick's fellowship grants, addressed our competitors and spectators to thank them for their support and explained in greater detail the bigger impact their contributions have made in the fight against cancer. Also in attendance were fan favorites Dean Lister and Jeff Glover.
Looking forward to the rest of 2016, Tap Cancer Out will return for our annual Spring and Summer Opens in April and August. We are also looking to add a new city for the first ever Tap Cancer Out Fall Open, so be sure to stay tuned for that. Your city might be next!