We are super excited to share with you the ultimate Global Grappling Day Event Playbook!
The event team at Tap Cancer Out worked really hard to create this guide for our event hosts, with the goal of helping them create the most impactful Global Grappling Day event! So, if you are planning on becoming a host, or are curious about it, be sure to grab this guide to learn more!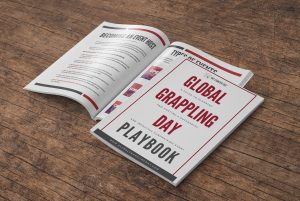 In this guide you'll learn
:
What it Means to be an Event Host
Suggestions for Different Event Types
How to Raise Funds for Your Event
Fundraising Perks (Individual & "NEW" Team levels)
How to Promote Your Event
Support You'll Get from the Tap Cancer Out Team
Past Event Case Studies
Event Planning Checklists
Please click HERE to download your free Global Grappling Day Event Playbook! If you have any further questions about hosting your event, please don't hesitate to contact us at fundraising@tapcancerout.org. We're here to help.