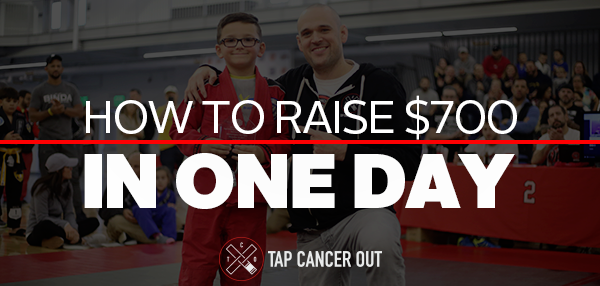 I'll be the first to admit, I'm not great at asking people for things. Whether it's asking my wife for more of the covers or asking friends to donate to my online fundraising efforts, it's always a bit awkward. I'd almost prefer to do (or try) everything myself than to bother others.
But taking the fight to cancer—that's not something any of us can do alone. We need to work together, as fundraisers and donors, to help impact the lives of those families battling cancer (because no one fights cancer alone). Our Tap Cancer Out BJJ Open allows BJJ competitors to use the sport they love as a catalyst to fundraise for those in the fight of their lives. For many it's their first time fundraising, and they often don't think they'll have much success, but we see time and time again that the opposite is true.
When we first started Tap Cancer Out in 2011, I had fundraised online exactly once. So I was pretty green. But over the years I've not only learned from my own experiences, but I've also learned from our amazing network of BJJ fundraisers, particularly our top fundraisers who have used some unique methods to garner donations from friends and family.
Now in my 7th year of fundraising for our Tap Cancer Out BJJ Opens, I've learned how to get off to a fast start (and how important those first few days AND last few days of fundraising are). This year I raised more than $700 in my first day of fundraising. Certainly not the most of any fundraiser, but enough that if you had done the same, you would have earned free entry to the tournament, an exclusive Under Armour fundraiser t-shirt, a Tap Cancer Out rash guard or hoodie, and would be only a few hundred dollars away from snagging our BJJ backpack.
In order to raise that much money in one day in support of TCO and Alex's Lemonade Stand Foundation, I used specific tactics that any fundraiser could employ.
STEP 1
I Customized My Fundraising Page
Every tournament registrant is set up with a fundraising page (whether they intend to fundraise or not). We include some default copy and media, but the power of the platform is in its customizability, and the most effective way to compel people to donate is to tell your personal story of how cancer has affected you. Instead of telling my story over and over again each year, I actually take a different angle each time. Last year I wrote about three amazing BJJ competitors who are battling cancer. And this year I wrote about how Alex Scott (founder of ALSF at age 4) inspires me to dream big. I not only updated the default copy with my own but added photos of Alex and made sure to update my avatar photo too (which is what shows up when you share the page on Facebook instead of our logo). Whatever your story is, your fundraising efforts will be (unofficially) 100x more effective if you customize your fundraising page.
STEP 2
I Set a Total Goal and Single Day Goal
Of course you'll want to think about what your ultimate goal will be. By default the pages are set at $1,000, but don't be afraid to aim higher. I tend to set my page at a pretty aggressive overall goal, but there are advantages to setting lower goals too (as long as you make sure to increase your goal each time it's exceeded) because they seem more attainable to donors. Even though I had a big overall goal, I made sure to set and express how much I hoped to raise in a single day, week, etc. to encourage donors to give sooner rather than later.
STEP 3
I Took My Page to Social Media
By far Facebook has been the most effective vehicle for sharing my fundraising efforts to my network of friends (and acquaintances). I am pretty private on Facebook, but I set this particular post to Public in order to allow others to share it to their Facebook pages. I make sure to link to my fundraising page and clearly state why I'm fundraising and what my goal is. Avoid mentioning the fundraising perks and lean in on the impact we are making in the fight against cancer. Also, don't limit yourself to Facebook. Instagram is also an effective place to share your fundraising page. You can share a screenshot of your fundraising page and add the link to your fundraising page in your bio. Tweet it, Snap it, and share it everywhere you can!
STEP 4
I Tagged Those who had Donated Previously
One of the reasons Facebook is so effective is not only because you can link directly to your fundraising page, but you can also tag people. I used this feature to my advantage when first sharing my fundraising efforts by tagging (and thanking) all those who helped me raise money on behalf of Tap Cancer Out the previous year. I made sure to state how many people donated in total and how much we raised together. If it's your first time fundraising then you won't be able to tag previous donors of course, but you can still tag those who you think could/would/should donate to your page. Sort of like the Ice Bucket Challenge where folks would proactively pass on the challenge to 3 others. You can do the same when asking for donations.
STEP 5
I Sent Emails
Email is definitely not dead. After sharing my page to social media I wrote a few emails to specific groups of people. My first email was to my family members—mom, dad, sister, aunts, uncles, cousins, and grandma of course. My second email was to my co-workers who are always very generous (especially if your company has donation matching).
STEP 6
I Kept Everyone Updated
In my original Facebook post sharing my fundraising page, I promised a special shout out to my first donor (because as we know, donors LOVE social recognition). Unsurprisingly my first donation came in just a minute or two after sharing my fundraising page and I made sure to write a special, colorful Facebook post thanking that donor. Also, as the day progressed, I shared more updates publicly thanking donors (specifically tagging them in each post) and shared when I surpassed my $500 goal and noted that my goal for the week was $1,000.
I totally understand that I have a unique advantage being the founder of Tap Cancer Out, and I'm not promising that everyone WILL raise this much in one day. But I know you CAN, and if it's not one day maybe it's two, or seven. But you all have the same tools at your disposal as I have, and in today's technological age we are exponentially more capable of fundraising than ever before. So it's really never too late to start fundraising for a Tap Cancer Out BJJ Open, because even if you sign up the last day of registration, you've still got four days to raise the $250 minimum for free entry. And you never know how much you could ultimately raise and the impact it creates.
So why not give it a try? We'll even send you emails with other fundraising tips and insider tricks along the way.