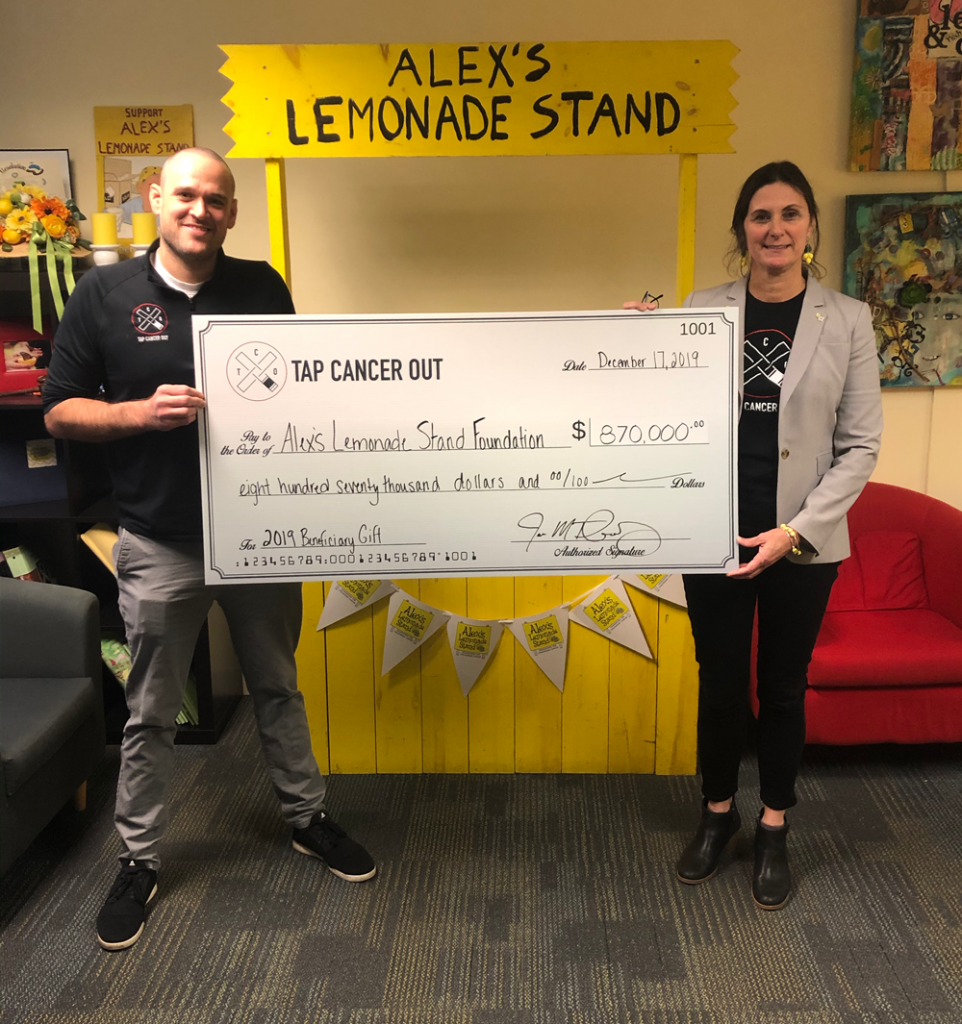 Tap Cancer Out (TCO), the most impactful nonprofit in Brazilian Jiu-Jitsu, is committed to fighting for those in the fight of their lives, and in partnership with Alex's Lemonade Stand Foundation (ALSF) are facing pediatric cancer head on. TCO's 2019 fundraising efforts, which included 17 events throughout the US, resulted in an $870,000 gift to ALSF, which will primarily fund research for better cures and less toxic treatments. This gift follows a $465,000 gift as a result of TCO's 2018 fundraising efforts, resulting in more than $1.3 million donated and dozens of grants co-funded in just two years.
A portion of the 2019 gift will support ALSF's Travel For Care program, which provides financial assistance to families with children battling childhood cancer and ensures access to travel for clinical trials, experimental therapeutics or treatment innovations not currently available at their local institution.
Tap Cancer Out was founded on the idea that all it takes is a passionate group of people to change the world. "Tap Cancer Out took a giant leap forward in 2019, and we're excited that Alex's Lemonade Stand Foundation will benefit from our success," said Jon Thomas, founder and executive director. "4,776 competitors stepped on the mats this year, including 2,000+ fundraisers, all in an effort to fight for those in the fight of their lives. For two years Alex's Lemonade Stand Foundation has been a wonderful and supportive partner and we look forward to continuing to support their work in the future." Tap Cancer Out will continue to partner with ALSF as they bring their innovative fundraising tournaments to 21 US cities in 2020.
Liz Scott, Alex's mom and co-executive director of ALSF is also excited about the relationship with Tap Cancer Out. "We are thrilled to have the opportunity to partner with Tap Cancer Out. The organization shares the same beliefs in the importance of research as ALSF and, together, we are making a huge impact on childhood cancer."
Funding will be designated to the following grants:
Stanford University School of Medicine
2019 Reach Grant
Optimizing TCRaB+/CD19+-depleted haploidentical HSCT for ALL using donor-derived genome-edited CAR T cells
(PI) Alice Bertaina, MD/PhD, ($50,000)
Connecticut Children's Medical Center
2018 Psychosocial Launch Grant
Enhancing Communication about Sexual and Reproductive Health between Oncology Clinicians and Adolescent and Young Adults
(PI) Natasha Frederick, MD/PhD ($50,000)
The Johns Hopkins University School of Medicine
2019 Young Investigator Grant
Modeling H3 G34R and BCOR-altered glioma pathogenesis using neural stem cells
(PI) Satoshi Nakata, MD/PhD ($50,000)
Duke University
2019 Innovation Grant
Role of the macro IncRNA KCNQ1OT1 in embryonal rhabdomyosarcoma tumorigenesis
(PI) Gianpietro Dotti, MD & Barbara Savoldo, MD/PhD ($50,000)
Emory University
2019 Innovation Grant
The anti-tumor immune microenvironment in the Sonic Hedgehog subclass of medulloblastoma
(PI) Anna Kenney, PhD ($50,000)
University of Miami
2018 Innovation Grant
Molecular Landscape for Targeted Therapy in Retinoblastoma
(PI) James Harbour, MD ($50,000)
University of Florida
2019 Innovation Grant
The use of hematopoietic stem and progenitor cells to reverse treatment resistance to PD-1 blockade
(PI) Catherine Flores, PhD ($50,000)
University of Texas Southwestern Medical Center
2018 "A" Award Grant
Mechanisms of PAX3-FOXO1 and HES3 Cooperation in Rhabdomyosarcoma
(PI) Genevieve Kendall, PhD ($50,000)
University of Texas Southwestern Medical Center
2018 "A" Award Grant
The Role of Pyruvate Dehydrogenase in Leukemia
(PI) Michalis Agathocleous, PhD ($50,000)
University of Texas Health Science Center at San Antonio
2018 Innovation Grant
RNA methylation in metabolically disrupted pediatric cancers
(PI) Patricia Dahia, MD/PhD ($50,000)
Ann & Robert H. Lurie Children's Hospital of Chicago
2019 Innovation Grant
Predicting and Overcoming Resistance to Immunotherapy in Pediatric High-Grade Glioma
(PI) Oren Becher, MD ($50,000)
Research Institute at Nationwide Children's Hospital
2019 Innovation Grant
Using Splice Switching Oligonucleotides (SSOs) to target MDM2 for rhabdomyosarcoma therapy
(PI) Dawn Chandler, PhD ($50,000)
St. Jude Children's Research Hospital
2019 Innovation Grant
Targeting microenvironment-induced TGFB signaling to overcome drug resistance in acute lymphoblastic leukemia
(PI) Charles Mullighan, MD/PhD ($50,000)
Children's Hospital of Philadelphia
2019 "A" Award
Elucidating the role of SETD2 in pediatric High Grade Glioma formation
(PI) Thomas De Raedt, PhD ($50,000)
University of Massachusetts Medical School
2019 Young Investigator Grant
The impact of CD56neg NK cells in the pathogenesis of endemic Burkitt lymphoma
(PI) Catherine Forconi, PhD ($50,000)
The remaining $120,000 will be restricted to the Travel for Care Program to help families across the country get to much-needed cancer treatments. The amount will support around 170 families in severe need of receiving critical, often lifesaving, treatments for their child.
About Alex's Lemonade Stand Foundation
Alex's Lemonade Stand Foundation (ALSF) emerged from the front yard lemonade stand of cancer patient Alexandra "Alex" Scott (1996-2004). In 2000, 4-year-old Alex announced that she wanted to hold a lemonade stand to raise money to help find a cure for all children with cancer. Since Alex held that first stand, the Foundation bearing her name has evolved into a national fundraising movement, complete with thousands of supporters across the country carrying on her legacy of hope. To date, Alex's Lemonade Stand Foundation, a registered 501(c)3 charity, has raised more than $200 million toward fulfilling Alex's dream of finding a cure, funding over 800 pediatric cancer research projects nationally. For more information on Alex's Lemonade Stand Foundation, visit AlexsLemonade.org.