Looking for the perfect gift for the grappler in your life? We're here to help! We've created the Tap Cancer Out Gift Guide to help you give a gift that is not only meaningful but allows us to fight for those in the fight of their lives. Our BJJ gift guide is full of our bestsellers and favorite items.
There is something here for everyone: parents, training partners, coaches and supporters. Check out the guide and some of our gift ideas below and HAPPY HOLIDAYS!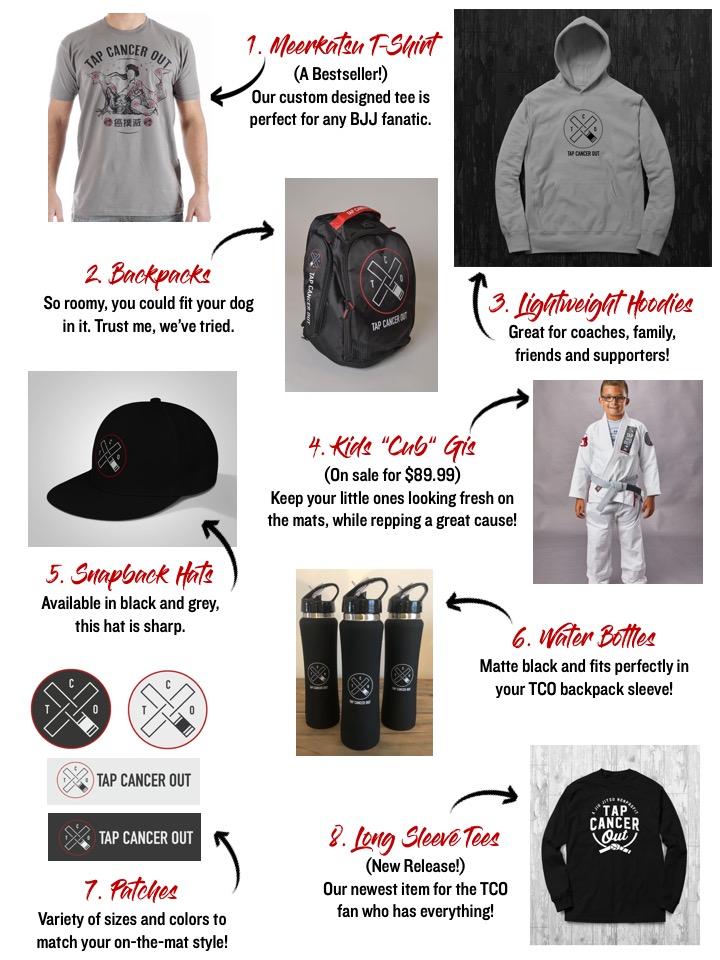 1.) Our best selling tee, the Meerkatsu/Scramble "Gentle Omoplata"  ($20) is back in stock! Designed by the incredibly talented and well known Seymour Yang, better known as Meerkatsu, along with the good folks at Scramble, this design depicts a Japanese princess defeating an Oni (Japanese demon) via omoplata. Her serene and gentle expression masks the brutal efficiency of the technique. It's the essence of jiu-jitsu, the gentle art, and is a metaphor for good vs. evil—our community vs. cancer. And it happens to be my favorite submission!
2.) Not only does our "Impact" Backpack ($89) function as a traditional dual-strap backpack, it transitions to a full duffel bag by hiding the over-the-shoulder straps, dropping out a hidden compartment expanding to twice its size, and including an extra duffel strap with the Tap Cancer Out logo on it. It easily fits multiple Gis as a standard backpack and many more when expanded. No, seriously, check out this video to see what we fit inside! We literally get tagged weekly if not daily in Instagram posts with people showing off how much they can fit in their bag, including children and pets! This is THE gift to get for the grappler-on-the-go.
3.) Lightweight Hoodies (on sale for $40) are perfect to cozy up with this winter! You can't go wrong with the grey or black pullover style, but we've also got zip-up styles, also in grey and black. The design features our TCO logo proudly and is a perfect gift for a teammate, coach, or your fundraising supporters!
4.) For the small-but-mighty BJJ fan in your life, why not get them a new gi this year? Our Kids "Cub" Gi's (a collaboration with Inverted Gear) are a pure white with red trim and unique patches only found on Tap Cancer Out Gis. Not to mention, they are on sale for $89.99 right now!
5.) Snapback hats ($20) will never go out of style. Our hats come in black and grey with a simple Tap Cancer Out logo embroidered in the front. It's the perfect stocking stuffer!
6.) Another great stocking stuffer idea is our custom branded water bottle ($20). It's double wall insulation lets you carry hot or cold liquids while you are on-the-go. Why not grab one and and throw it in your new TCO Impact backpack for the perfect gift bundle?
7.) Patches ($10) are the perfect way to represent Tap Cancer Out on the mats and come in a variety of sizes (6″ round and 9″ x 3″ lapel).
8.) The Inverted Long Sleeve tees ($30) are our newest and hottest item this year! You can grab one in white or black and make it the perfect gift for the grappler who might already have some of our amazing Tap Cancer Out gear!
We hope that this gift guide inspired you to find the perfect gift this year! Keep in mind that proceeds from our merchandise benefit Alex's Lemonade Stand, so you aren't only making someone smile this holiday season, but you're helping us fight for those in the fight of their lives.