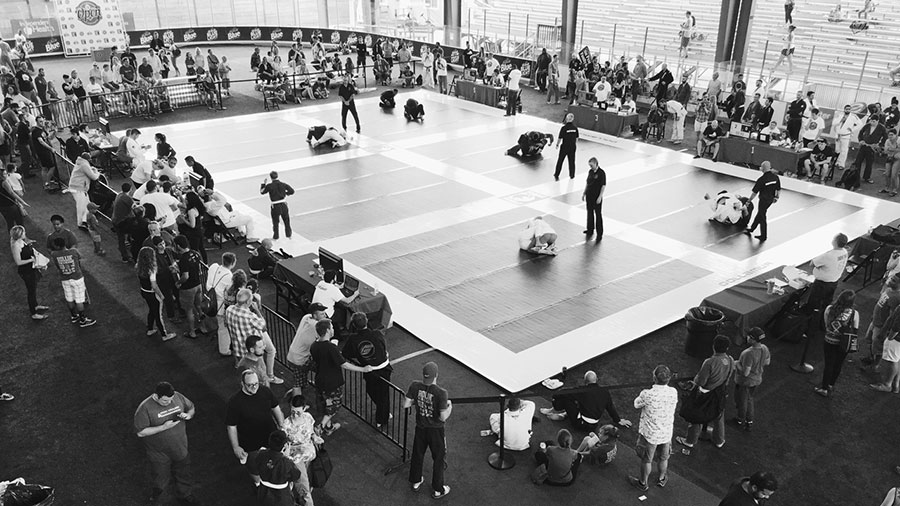 Tap Cancer Out is a 501(c)3 nonprofit organization with a mission to motivate and empower the Brazilian Jiu Jitsu community to raise awareness and funds for cancer-fighting organizations. Since 2012 we've raised and donated more than $2.25 million to our beneficiary organizations. We primarily raise funds through our unique charitable Brazilian Jiu Jitsu tournaments which are hosted in cities across the United States.
This page will help potential venues understand what we're looking for in a host, how our events work, and what they can expect from us as a guest.
HISTORY
Tap Cancer Out was founded in 2011 by Executive Director Jon Thomas and his wife, Becky Thomas. Jon was seeking a way to combine his passion for Brazilian Jiu-Jitsu (BJJ) with his hatred for cancer. What resulted was a BJJ tournament series that allowed competitors to fight for more than just medals. They'd be able to fight for those in the fight of their lives. Since the first ever Tap Cancer Out BJJ Open in Stratford, CT in 2012, Tap Cancer Out has hosted more than 50 events across 20 US states.
To learn more about the evolution of Tap Cancer Out you can visit Our History page.
BY THE NUMBERS
(Through July, 2021)
59 Events
8,000 Fundraising Competitors
18,000 Total Competitors
73,000 Donors
$2.25 Million Donated
VENUE SPECIFICATIONS
Our Tap Cancer Out BJJ Open welcomes hundreds of competitors, coaches, spectators and staff in an event that allows BJJ practitioners to turn their passion for BJJ into impact in the fight against cancer.
There is no one ideal venue type. We've worked with a variety of venues including sports centers, civic centers, arenas, colleges, and universities. We pride ourselves on being respectful and responsible tenants and require very minimal support. We are fully self sufficient in terms of setting up and breaking down and bring nearly all the equipment we need to host our events.
Our smaller tournaments may welcome only ~150 guests and last just a few hours. However, our larger tournaments could welcome 500 – 800 guests and last into the early evening or require us to spread the event over two days (Saturday and Sunday).
Minimum Requirements:
30,000+ square feet of open space
Friday Load-in starting between 3pm and 6pm with a 4-hour duration
Ample off-street parking with at least 200 parking spaces and/or overflow lots
Strong non-public WiFi or hard-wired Ethernet connection for 12+ laptops
Easy load-in / load-out (ex: garage doors, direct access to courts, etc)
Bathrooms that can support at a minimum 300 individuals and potentially 1,000+
40 – 60 Chairs for our staff
NO REQUIREMENT to share spectator ticket proceeds with venue
NO REQUIREMENT to sell tickets in a specified area separate from where we are checking guests in
Ability to accept cash transactions on-site
Nice to Have but Not Required:
Opportunity to rent the entire facility
Concessions (for guests) / Catering (for staff)
12-15 tables (though we do have 15 of our own)
Seating for spectators (Ex: Bleachers)
Food allowed on site (Ex: Serving boxed lunch to our staff at the ring tables)
Typical Timing:
Most events are 1 day (+ day prior set up) but our larger ones may be spread over 2 days
Friday Set Up – Lasts 4 hours and may start as early as 3pm but no later than 6pm
Saturday Event Day

TCO Team Arrives at 7:00am
Doors Open at 7:30am
Event Starts at 9:00am
Event Concludes anywhere from 2pm – 6pm
**Times vary greatly depending on event size!!
Past Facilities Used
Sports Centers

Blue Springs Fieldhouse – Blue Springs, MO
GameOn Sports – Fort Worth, TX
Round Rock Sports Center – Round Rock, TX
SONO Fieldhouse – South Norwalk, CT
AdventHealth Fieldhouse – Winter Park, FL
XL Sportscenter – Hatfield, PA
United Sports – Downingtown, PA
Civic Centers / Arenas:
Cobb County Civic Center – Marietta, GA
Kissimmee Civic Center – Kissimmee, FL
Dorton Arena – Raleigh, NC
Alario Center – Westwego, LA
Nashville Fairgrounds – Nashville, TN
Oak Lawn Pavilion – Oak Lawn, IL
High Schools / Universities:
San Diego City College – San Diego, CA
San Diego State University – San Diego, CA
Mount Saint Joseph's University – Cincinnati, OH
St. John's Preparatory HS – Danvers, MA
Floyd Little Athletic Center – New Haven, CT
Set Up Examples: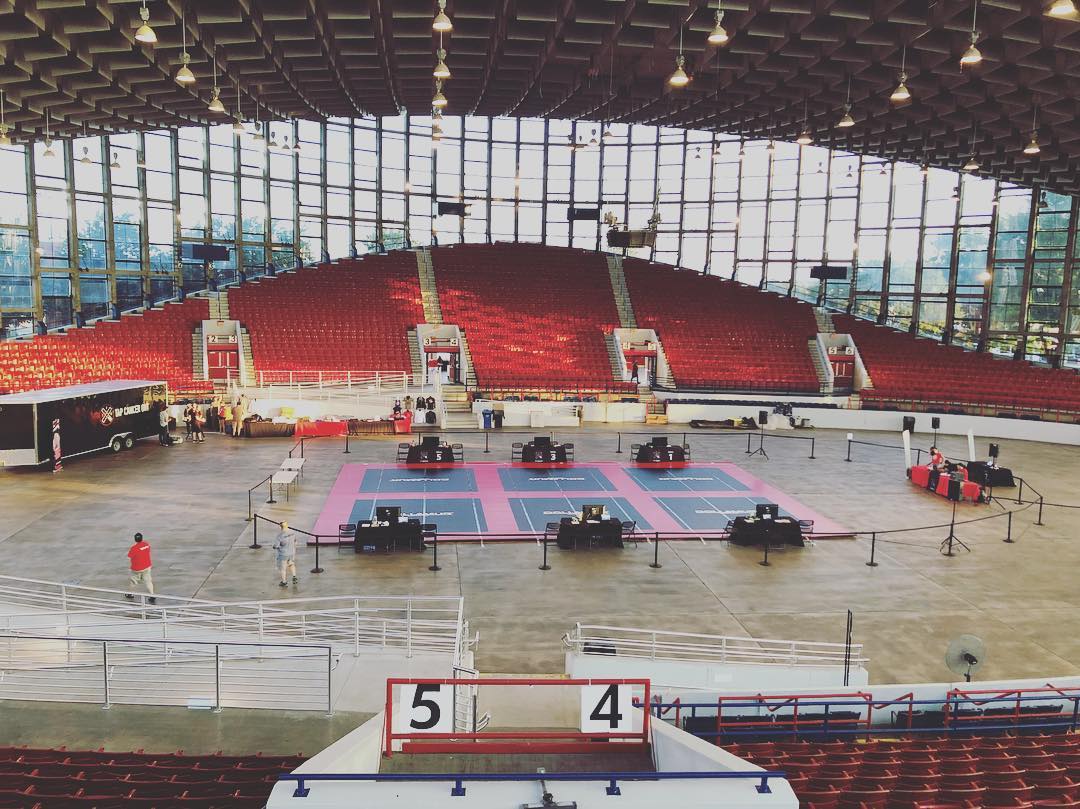 Dorton Arena | Raleigh, North Carolina | 6 Rings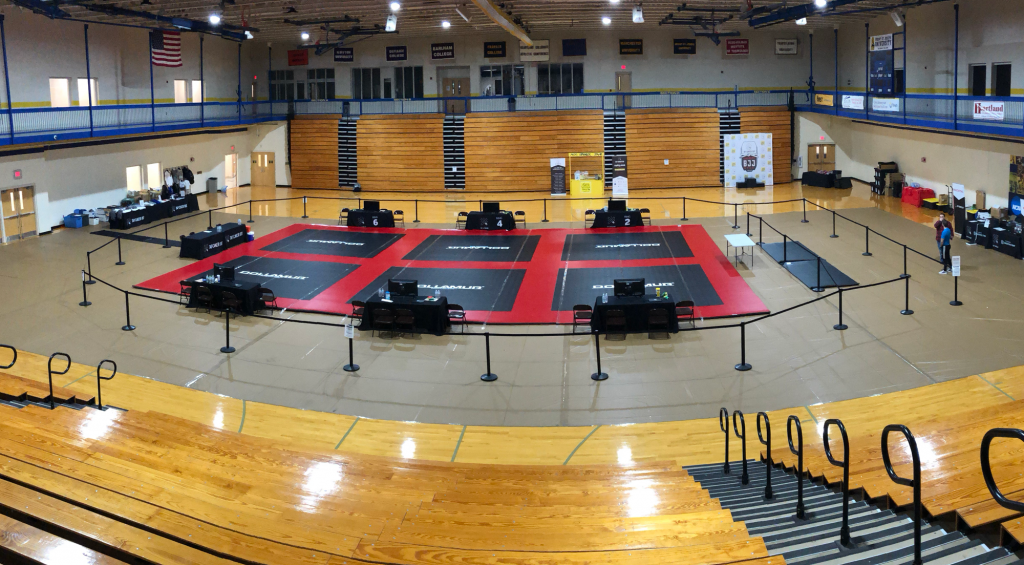 Mount St. Joseph's University, Cincinnati, OH | 6 Rings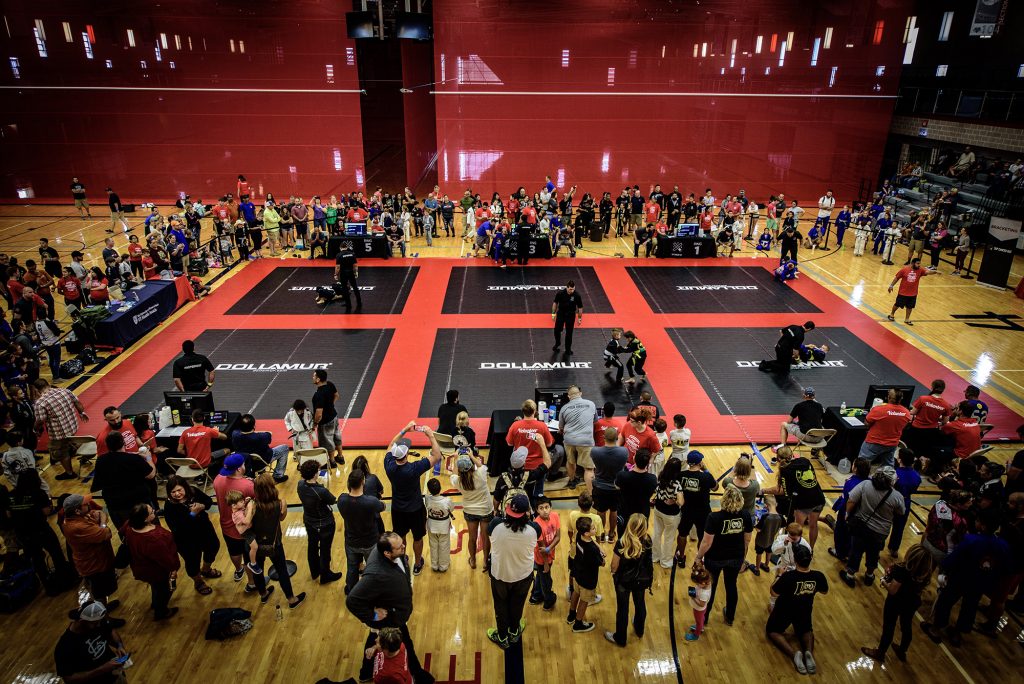 Round Rock Sports Center, Austin, TX | 6 Rings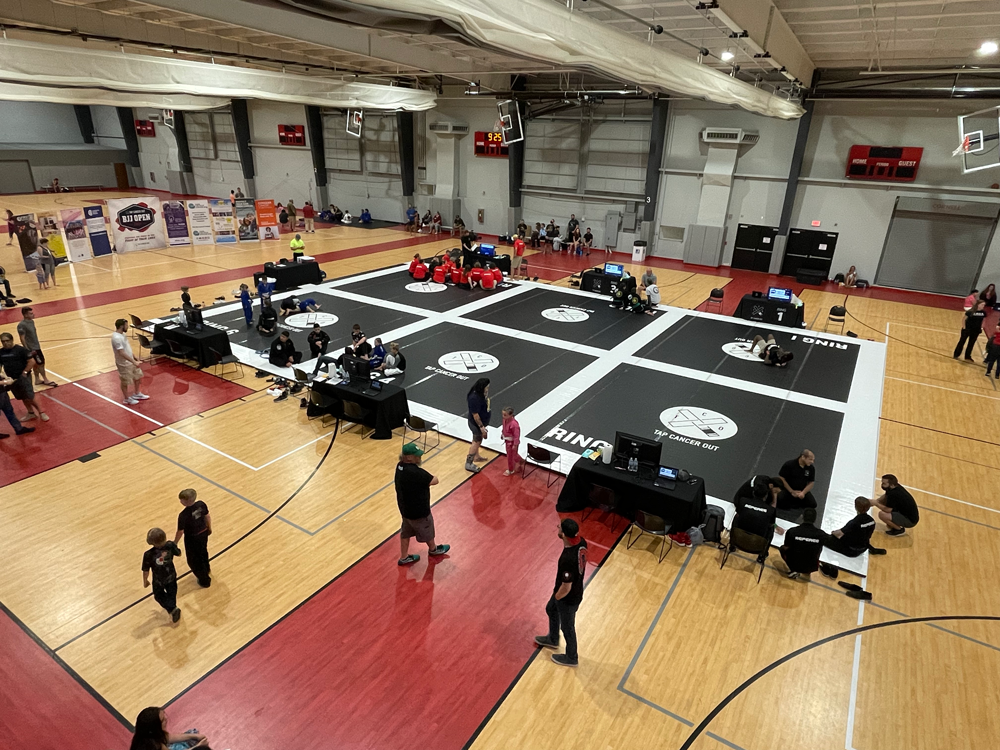 Blue Springs Fieldhouse | Blue Springs, MO | 6 Rings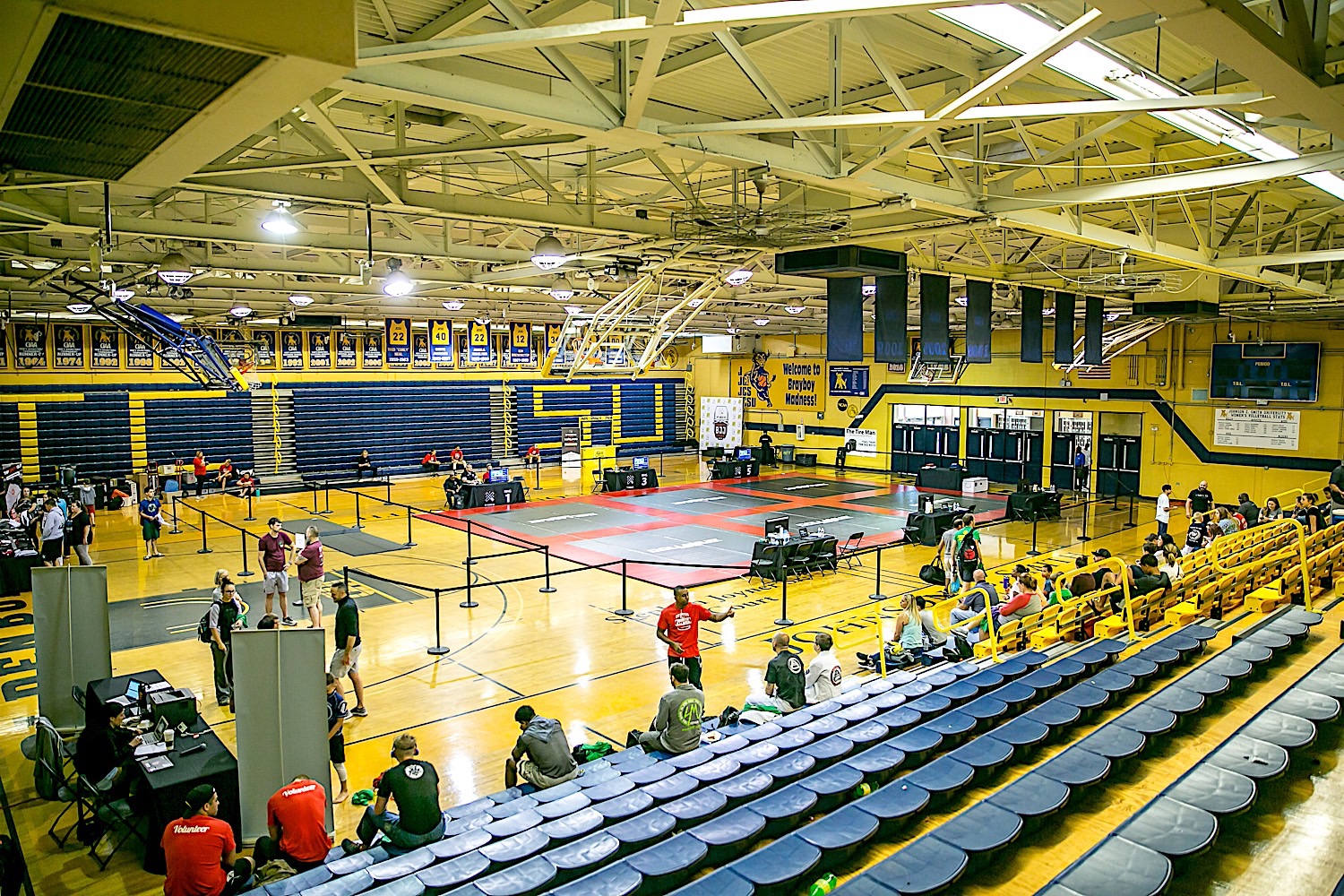 Johnson C. Smith University | Charlotte, NC | 6 Rings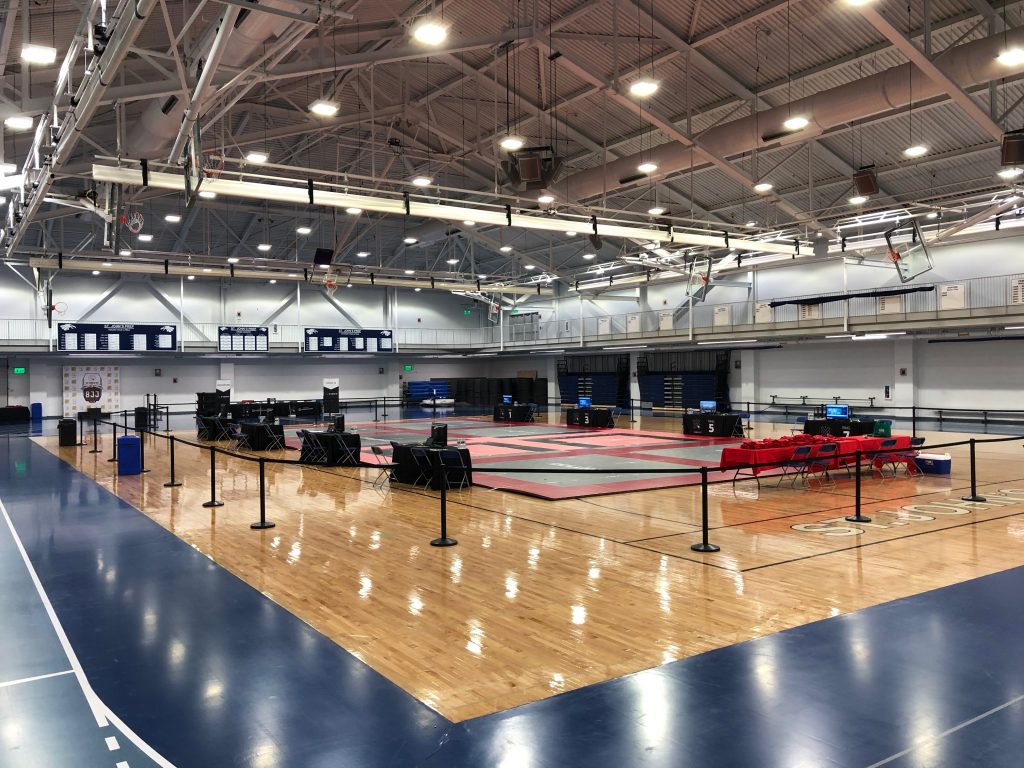 St. John's Preparatory School | Danvers, MA | 8 Rings