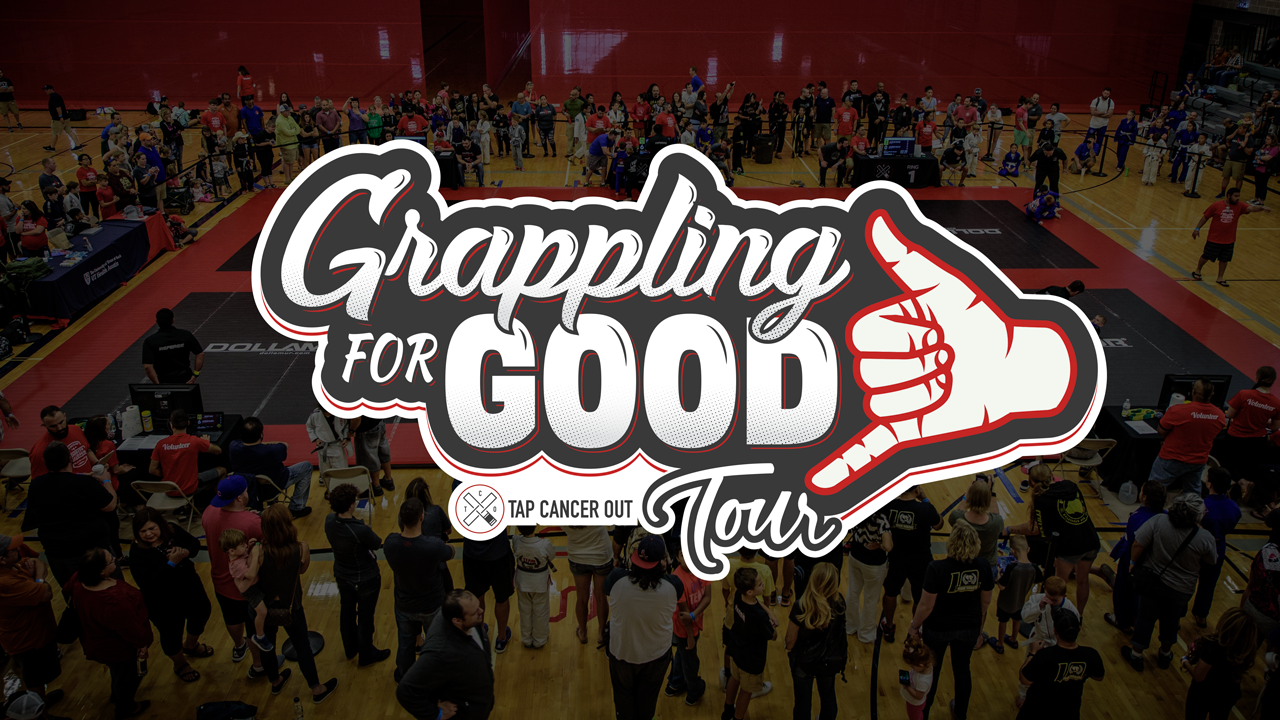 It was late October of 2017 when it hit me—an idea that would change Tap Cancer Out, and my life.
I messaged Adam, at the time one of our most dedicated volunteers, and told him, "I'm about to blow your mind, if you really want to change the world with us…"
"I'm sitting down," he said.
At that moment, I pitched it to him.
7 tournaments —7 cities—7 weeks—$350,000 raised (or more).
But I'd need a few things…A truck and trailer to haul everything around the country (at the time we were just renting UHaul trucks)…someone to haul it…and enough free time organize back-to-back tournaments over a two month span. Not to mention, we'd need to book venues, hire referees and EMTs, and find volunteers in all these cities we've never been to. And what would we call it?
Easy, right?
Literally days after I pitched the idea, we won a $25,000 grant from Starbucks, which would fund the trailer and much of the truck. Adam signed on to be our Tour Director, which included driving thousands of miles around the country, leaving home for the entirety of the tour. I'm not sure anyone on the planet, including myself, would have signed on for that. But he didn't hesitate.
Then, the biggest step. In order for there to be a Tour, I'd have to quit my job. In order for me to quit my job, there had to be a Tour. Chicken, meet egg.
So, I quit my job. I quit my freaking job. Something I had said I'd (probably) never do. And while it was a great job, I found myself in my office constantly thinking about Tap Cancer Out. It was what I was most passionate about. It was calling me. I didn't leave in a blaze of glory. It was a gradual transition, making it easier on all parties. But six months later I'm still getting used to waking up in the morning and not having to drive to an office.
One year later and I'm looking back on a successful Grappling for Good Tour. It didn't come without its obstacles, but we flowed with the go and made it work. Here's a glance at exactly what went down:
The Route:
Raleigh – New Orleans – Orlando – Austin – St. Louis – Chicago – Philly
The Competitors:
1784
The Fundraisers:
732
The Donations:
5914
Total Fundraised:
$314,500 (and counting)
This Tour broke records too. Chicago broke almost every record for a first-year tournament including funds raised ($78,523), donations (1,489) and transacting fundraisers (140). Plus, Raleigh set the record for the highest percentage of fundraising competitors (52%) for a first-year tournament.
I appreciate everyone who came out to take part in our Tour, but it's the fundraisers that deserve an extra round of applause. We had been keeping track of the Top Fundraising City leaderboards, but until now we hadn't shared how the individual fundraisers fared against each other.
Take a look below at our overall Grappling for Good Tour leaderboards for Top Fundraisers, Top Fundraising Teams, and Top Fundraising Cities!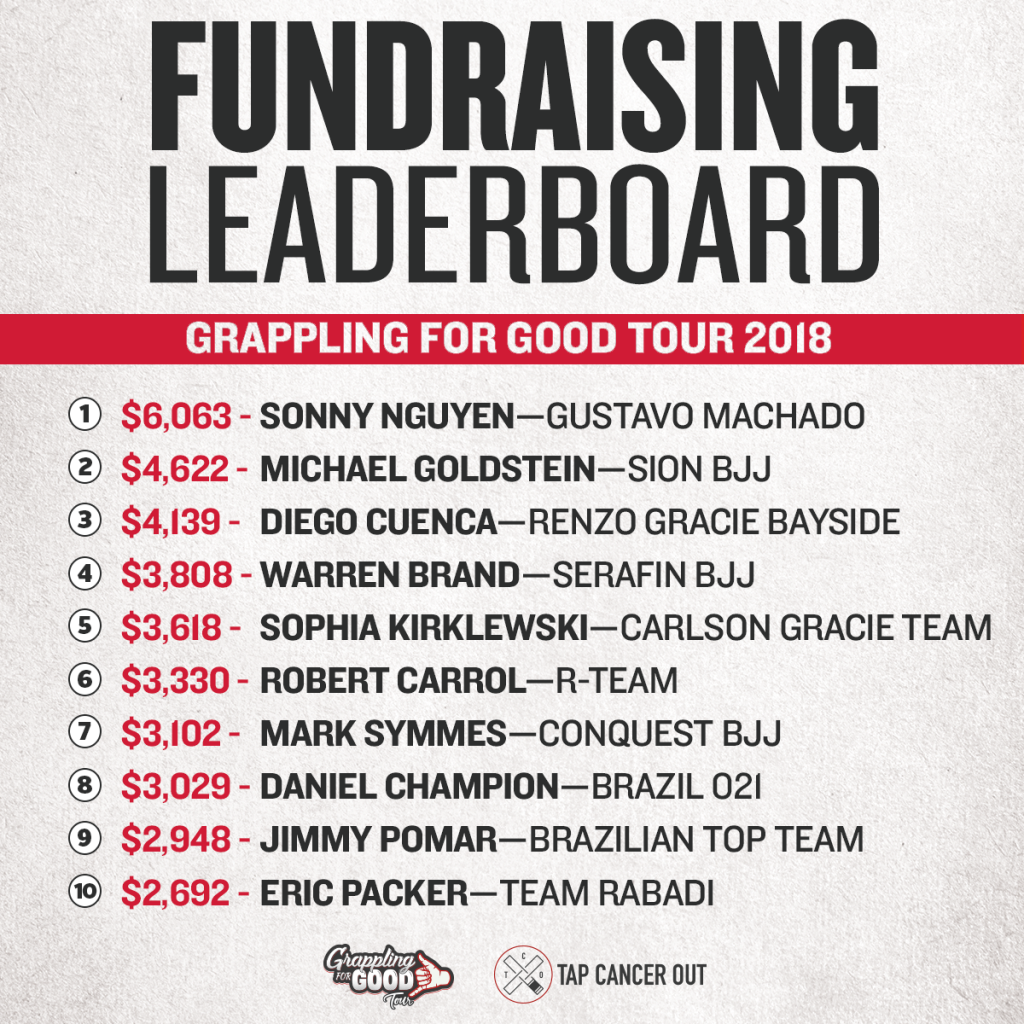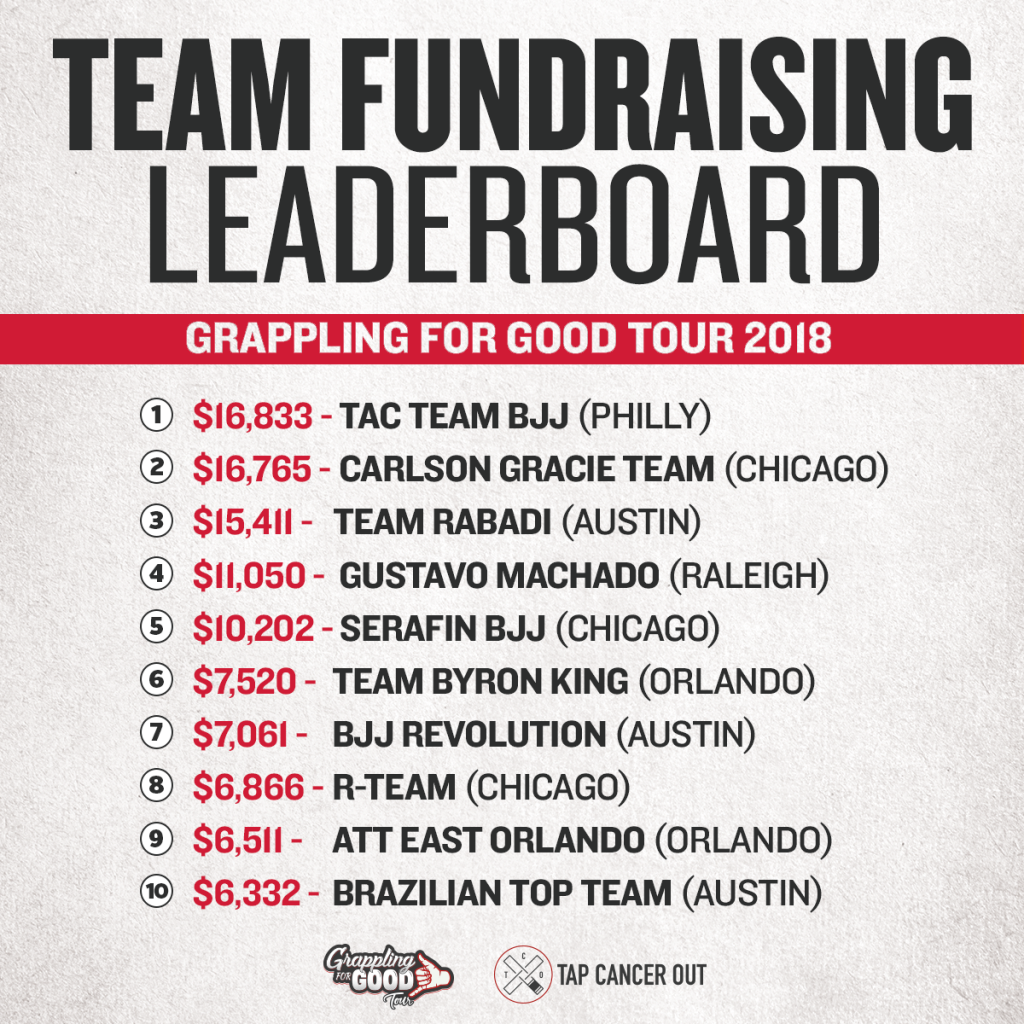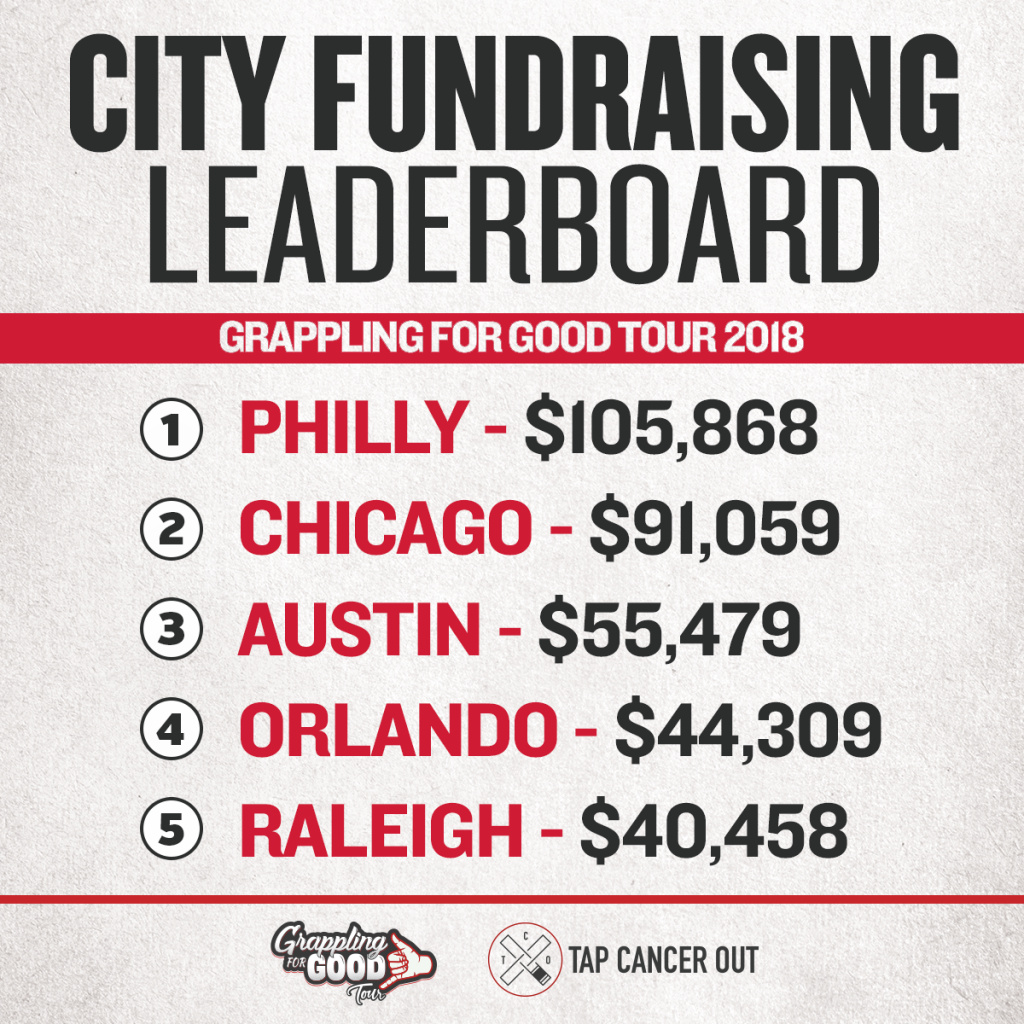 Those numbers are great, but it's the hidden numbers that truly made this a special time for us. Numbers that I can't quantify (or at least didn't keep track of). Like the number of volunteers (around 250 maybe?), hours setting up and breaking down, flights, team dinners, hands raised, pounds shed, lessons learned, laughs, hugs, and most importantly, the number of smiles.
Also, while the Grappling for Good Tour matches are complete and medals all handed out, that doesn't mean we're done. Nope, not at all. The fundraising never stops (at least not for a while). All your Grappling for Good Tour fundraising pages are still live (did you know that?), and we want to make one last push to approach $350,000 raised. So please, if you're a fundraiser head over to your fundraising page. If you're a supporter, head to one of our tournament pages to make a tax-deductible year-end contribution.
Donate to one of our Raleigh fundraisers
Donate to one of our New Orleans fundraisers
Donate to one of our Orland0 fundraisers
Donate to one of our Austin fundraisers
Donate to one of our St. Louis fundraisers
Donate to one of our Chicago fundraisers
Donate to one of our Philly fundraisers
Again, from the bottom of my heart, thank you. The Grappling for Good Tour will CERTAINLY be back in 2019, bigger and better than ever before!